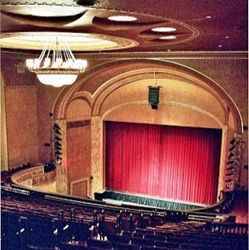 State Theatre NJ is eager to announce the collection of entertaining holiday shows taking place throughout the month of December.
New Brunswick, NJ (PRWEB) December 10, 2014
The State Theatre NJ is eager to announce the collection of entertaining holiday shows taking place throughout the month of December. Kicking off the season was Trace Adkins with his acclaimed Christmas Show, in which he shared songs of his newest album "The King's Gift."
We continued the holiday cheer on Saturday, Dec. 6 at 8 p.m. with The Irish Tenors, who provided an evening of holiday music with a full orchestra accompaniment. These classically trained singers impressed show-goers with a concert that was rich in Irish culture and seasonal musical treasures.
This past Sunday afternoon, concertgoers enjoyed carols by candlelight. The vocal splendor of these Christmas songs included the talents of two-time Grammy nominated vocal ensemble Seraphic Fire. The show was an immense success, and the theater is overjoyed to continue spreading holiday cheer with its remaining shows this season.
The State Theatre NJ is pleased to announce these upcoming Christmas shows in New Jersey, all to be performed by sensational dancers, singers, and instrumentalists:
If you love horns during the holidays, the State Theatre NJ will have some of the best in the world on Wednesday, Dec. 10. The Canadian Brass show includes five outstanding instrumentalists, including two trumpets, one tuba, one trombone, and a French horn.
The theater will host some classic holiday shows, such as the Nutcracker, performed by the American Repertory Ballet. They will have several performances throughout the week: Friday, Dec. 19, Saturday, Dec. 20, and Sunday, Dec. 21.
To offer a truly fantastic treat for all attendees, the theater is eager also to host A Take 6 Holiday with the NJSO. This musical group has won 10 Grammy awards and offers a unique listening experience with a wide array of genres within their performance, from R&B to pop to gospel.
Closing out the holiday season will be the New Year's Eve concert, Salute to Vienna. Over 75 musicians will help to ring in the new year with classical music, singing, and dancing. The first Salute to Vienna was performed in 1939, and this will be its 9th year performing at the State Theatre NJ.
One of the most prominent theaters in the area, State Theatre NJ is located at 15 Livingston Avenue New Brunswick, NJ 08901. For more information about the shows, call 732-246-7469 or email info(at)statetheatrenj(dot)org. To reserve your show's tickets, visit http://www.statetheatrenj.org.
About State Theatre NJ:
State Theatre NJ is located in Central NJ and has offered a magnificent venue for varied types of entertainment since 1921. Catering to all of New Jersey, it is the premier location of Hub City Carnivale and Family Day, in addition to its full season line-up of Broadway, dance, orchestra, concerts, family events, comedy, and live music.