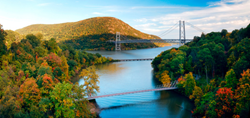 Guests at Central Park Hotels like Park Lane Hotel will have a number of options for enjoying the lovely New York fall foliage during their stay.
New York, NY (PRWEB) September 30, 2014
Hotels throughout New England and New York welcome thousands of guests each fall who come to see the brilliant fall foliage. The explosion of brilliant colors light up the sky as the green leaves of summer give way to the vivid orange, red, and gold of fall. Guests at Central Park Hotels like Park Lane Hotel will have a number of options for enjoying the lovely New York fall foliage during their stay. Park Lane Hotel has impressive special offers to welcome fall visitors. View offer details >
For guests at NYC Hotels who want to enjoy the fall foliage, all it takes is a stroll through Central Park. For those who would like a more in-depth look at the arboreal beauty of fall, there are a couple of wonderful options not far from top Central Park Hotels.
Hudson Valley Fall Foliage Tour
888.880.9108
Visitors will board a comfortable van in New York City and enjoy a leisurely drive through some of New York's most historic sites. Visit West Point and the site of the Revolutionary War's Fort Montgomery. Along the way, the tour will pass miles of maples, aspens, oaks, and other varieties of trees all adorned in their best fall splendor.
Hudson River Fall Foliage Cruise
800.262.8743
Passengers will board at Manhattan's Pier 11 and then spend the entire day enjoying beautiful fall scenery during a pleasant cruise down the Hudson River. The boat will pass under the George Washington Bridge and an onboard historian will provide interesting insights into the history of the Hudson River and the surrounding area. A stop for lunch in Cold Springs and another stop in Newburgh give passengers a chance to do a bit of exploring before heading back to the city and the comfort of their Central Park Hotel. The boat leaves Pier 11 at 9 a.m. and returns at 6:15 p.m.
About The Park Lane Hotel - A Central Park Hotel:
The Park Lane Hotel - A Central Park Hotel, is a Luxury 46-story NYC Hotel offering spectacular views of Central Park and the New York skyline from its 606 Guest Rooms and Guest Suites. The Park Lane Hotel - A Central Park Hotel, opened on May 1, 1971 on Central Park South (59th Street) nestled between 5th Avenue and 6th Avenue, where the Eastside meets the Westside in one of New York's most prestigious neighborhoods.
The Park Lane Hotel features luxury NYC Accommodations with European decor and oversized picture windows with panoramic views of Central Park and City Skylines.
The Park Lane Hotel, provides Guests with a memorable dining experience with The Park Room, an iconic NYC Restaurant. When you're ready for a relaxing cocktail at the end of a day of meetings or sightseeing, stop into Harry's New York Bar - an New York institution among residents and visitor's in the know.
New York City is the Shopping Capital of the World and The Park Lane Hotel is at the center. A mere 5 minute walk will bring you to a NYC Shopping paradise on 5th Avenue and Madison Avenue which includes such names as; Tiffany', Van Clef and Arpels, Chanel, Louis Vuitton, Hermes, Bloomingdale's, Gucci, Barney's, Saks Fifth Avenue and many more. You can almost hear the sounds of voices streaming from Lincoln Center, with the Metropolitan Opera House, New York State Theatre (home of the NYC Opera, NYC Ballet, and the seasonal classic, Balanchine's Nutcracker Suite), Avery Fisher Hall, Alice Tully Hall, and The Juilliard School.
You can enjoy an avant garde production at City Center or visit the Oratorio Society of New York at their Carnegie Hall home. The Broadway Theatre District is close by and has been the creative hub of musicals and dramatic productions for over 100 years.
There are many cultural institutions to visit close to our Central Park Hotel, including; MOMA (Museum of Modern Art) and the Fifth Avenue "Museum Mile" which includes Metropolitan Museum, Guggenheim, Cooper-Hewitt National Museum of Design, Museum of the City of New York, National Academy Museum and School of Fine Arts, Jewish Museum, Goethe House German Cultural Center and El Museo del Barrio.
Park Lane Hotel - A Central Park Hotel
36 Central Park South
New York, New York 10019
Telephone: 212.371.4000
Visit our Central Park Hotel Website.
Check Rates or Make Reservations.
View the Park Lane Hotel's Photo Gallery >