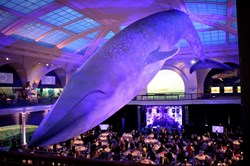 One of the highlights of the fall social season is the American Museum of Natural History Museum Gala. Many people come from out of town for this event, and the top NY hotels like The Manhattan Hotel have impressive special offers to entice guests.
New York, NY (PRWEB) October 18, 2013
The American Museum of Natural History Museum Gala is one of the top events in New York. The Gala draws New York's society elite along with celebrities of music, film and television. The purpose of the event is to raise money for museum education and science programs. Refinery Hotel – a luxury NYC Hotel has special offers to welcome those who come from out of town to attend this elite event in New York and other events taking place this November. View offer details >
American Museum of Natural History 2013 Museum Gala
When: November 21, 2013
Where: American Museum of Natural History | 200 Central Park West New York, NY 10024
Call: 212-769-5932
While celebrities can be seen walking the red carpet to enter the American Museum of Natural History Museum Gala, tickets are also sold to the public. This event is an exciting opportunity to enjoy dinner, dancing and a concert alongside stars of the stage and screen.
The evening begins with drinks and dinner before the party moves into the Ocean Hall Gallery where Florence + The Machine will perform a live concert. Dancing and mingling take place against the backdrop of the stunning museum exhibits.
One of the highlights of the event is the live auction. Bidders will have the opportunity to support the museum's programs while also winning items and experiences such as artwork, VIP seating for the Macy's Thanksgiving Day Parade and much more.
Tickets for this event cost between $1,500 and $10,000 each. Blocks of ten tickets can be purchased for $15,000 to $100,000. For more information about attending this exciting thing to do in New York, contact the American Museum of Natural History at the number listed above.
About Refinery Hotel – An NYC Hotel:
Refinery Hotel – An NYC Hotel is the newest Hotel in New York's Fashion District, situated on 38th Street, between 5th and 6th Avenues. Originally built as a high-end Millinery Factory and Tea Salon in 1912, Refinery Hotel's design draws on the building's past, combining raw elegance in the Guest Rooms with refined public spaces. Lord and Taylor, Fifth Avenue, and several small apparel and accessory boutiques sit around the corner from Refinery Hotel, a NYC Accommodation that breathes new life into the New York Garment District.
This New York Hotel indulges Guests with upscale offerings like loft-style Guest Rooms, Prohibition Era-decorated Winnie's Lobby Bar, the luxurious Parker & Quinn Restaurant, and The Rooftop Bar, a 3,500 square foot-gathering space that affords spectacular views of the Empire State Building.
Refinery's 197 industrial chic Guest Rooms and Suites offer classic NYC loft living in redefined spaces, which make beautiful use of the historic building's 12' ceilings, distressed hardwood floors, and exposed walls. Guests at Refinery Hotel – A New York City Hotel - enjoy extravagant features like walk-in stone floor showers as well as charming appointments that nod to the NYC Hotel 's heritage, such as the work desks that resemble old sewing machines.
Visiting New York? Choose Refinery Hotel - An NYC Hotel.
Visit Our Website to View Our Luxury Accommodations
View current special offers. View Offer Details