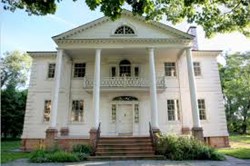 The Manhattan Hotel – A Times Square Hotel welcomes visitors in search of ghosts and goblins with impressive special offers.
New York, NY (PRWEB) September 24, 2013
Halloween is one of the most popular American holidays, and there are many things to do in New York to mark this day. Parades and costume parties are popular choices, but another option is to visit some of the city's most haunted spots. The Manhattan Hotel – A Times Square Hotel welcomes visitors in search of ghosts and goblins with impressive special offers. View offer details >
There are dozens of buildings where ghostly encounters have been reported. Here are a 5 of the most haunted NYC spots.
Jumel Mansion
Where: 65 Jumel Terrace New York, NY 10032
Call: 212-923-8008
Visitors to this National Historic Landmark have reported seeing 5 different ghosts. The most frequently spotted is Eliza Jumel. Eliza moved into the house, which was built in 1765, with her husband, Stephen, in 1810. After Stephen died a suspicious death, she married former Vice President Aaron Burr. That marriage didn't last long. It ended in divorce a few years later. Eliza lived out her final days alone and suffering from dementia. Her ghost is said to walk the halls of her former home.
The House of Death
Where: 14 West 10th Street Manhattan, NY 10011
A psychic who lived in this house wrote a book about her experiences with the home's many resident ghosts. These hauntings have been reported as far back as 1930. This house is a good choice for celebrity ghost hunting as Mark Twain is said to be among the more than 20 ghosts that have been sighted here.
James Brown House/The Ear Inn
Where: 326 Spring Street New York, NY 10013
Call: 212-226-9060
James Brown was a hero during the Revolutionary War and worked as an aide to the country's first president. He built this home in 1817, but it is not his ghost that haunts it. For many years, the ground floor of this building has been the Ear Inn, a popular tavern. One night a sailor was killed in front of the Bar, and his spirit is said to still lurk here both inside and outside.
The Merchant's House
Where: 29 East 4th Street New York, NY 10003
Call: 212-777-1089
The New York Times called this "Manhattan's most haunted house." The Merchant's House was once the Tredwell family home. Today, this National Historic Landmark is a popular museum. The home, built in 1832, is still filled with the family's furniture and personal items and provides a look at daily life in the mid-19th century. It may also provide a glimpse of one of the Tredwell women. Gertrude Tredwell was born here. She never married, and she lived here all her life. Apparently, she isn't quite ready to leave her home as her ghost has been reported by many museum guests and workers.
Belasco Theater
Where: 111 West 44th Street New York, NY 10036
Call: 212-239-6200
Seeing a Show is a popular thing to do in New York, but when you see a show at this theater you just might be seated next to a ghost. The man who built the theater in 1907 is said to have loved his work so much that he stuck around. The ghost of David Belasco has been spotted on the stage, in the audience and on an elevator. He's not alone. He reportedly has a companion nicknamed the Blue Lady.
About The Manhattan Hotel – A Times Square Hotel:
With the ultimate New York location guests are just steps from exciting Times Square, the Broadway Theater District, Central Park, Empire State Building, and neighborhoods of Greenwich Village and SoHo to Central Park, Rockefeller Center, and Madison Avenue.
Visit The Manhattan – An NYC Hotel Website.
Visiting New York? Consider The Manhattan Hotel - Check Rates, Make Reservations or call toll free: 800.610.5386
View all of The Manhattan Hotel's special offers - View offer details >