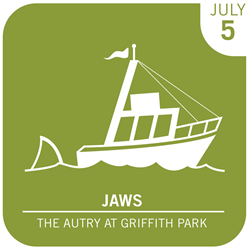 This is the perfect event to celebrate the Fourth of July holiday weekend. 'Jaws' is a true American classic.
Los Angeles, CA (PRWEB) July 01, 2014
Los Angeles movies in the park event series Eat|See|Hear will show "Jaws" at the Autry in Griffith Park on Saturday, July 5, 2014. The event will begin at 5:30 p.m. and will include live performances by LA bands King Washington and Bird Concerns beginning at 7 p.m. Food trucks will be on site and the movie will start at 8:30 p.m. Tickets are $10 when purchased in advanced and can be reserved online.
LA food trucks on location for this event include The Greasy Wiener, Haute Burger, Canvas, Boba Ni Taco, Mandoline Grill, Oh My Gaga, Hurricane Truck, Creasian, Say Fish Taco, Sweet Arleen's, Coolhaus, Brasil Kiss and others.
The Autry is located at 4700 Western Heritage Way in Los Angeles, CA. The main entrance for the event is on the event lawn adjacent to the Autry Museum Building. Blankets, pillows and cushions are recommended. Low beach-style chairs are permitted but tall or high-backed chairs are not. This event is dog-friendly and all four-legged friends will be greeted at the entrance with a complimentary biscuit. Free parking is available across the street at the LA Zoo and ample bike parking is available on site as well.
"This is the perfect event to celebrate the Fourth of July holiday weekend. 'Jaws' is a true American classic that redefined modern cinema and has become deeply engrained in popular culture, especially the theme song!" said Sharon Sperber, executive producer of Eat|See|Hear. "We're looking forward to an evening filled with good food, live music from two of LA's best buzzbands and a ravenous man-eating shark!"
About Eat|See|Hear:
Eat|See|Hear is LA's premier outdoor movie, food truck and live music event series that brings an evening of fun to Los Angeles-area communities each summer. The third annual series is presented by SHOWTIME, featuring up-and-coming bands from the local music scene, the hottest food trucks, and the only 3-story high, 52-foot wide inflatable movie screen west of the Mississippi with the highest quality HD-projection and digital surround sound. Eat|See|Hear is produced by LA-based Trailhead Marketing, Inc. with audio-visual provided by Hollywood Outdoor Movies. For more information about the third annual Eat|See|Hear summer event series, consumers are encouraged to visit the Eat|See|Hear website at http://www.eatseehear.com, as well as the Eat|See|Hear Facebook page, Twitter feed (@EatSeeHear) and Instagram (@EatSeeHear) for the latest updates.