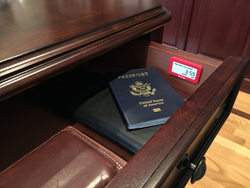 Thingzo tries to help people manage their lives better through monitoring the movement of various objects.
CAMBRIDGE, Mass. (PRWEB) February 28, 2017
Thingzo is an innovative, user-friendly sensing device that continuously displays how much time has passed since an object was last moved or used. This allows individuals to have better control over their responsibilities and stay informed about their personal items, helping them with security, safety and peace of mind. The new product uses a patented methodology to detect movement and always displays the amount of time that has elapsed. The team has turned to Kickstarter to build support around Thingzo and raise funds to finish the necessary steps to bring it to production.
"With so much going on in our everyday lives, it's easy to lose track of time and not know if we remembered to do something. Or sometimes we just don't know if our belongings are safe. Thingzo tries to help people manage their lives better through monitoring the movement of various objects," said Thingzo founder Mark Chung. "Thingzo is compact and easy-to-use. The average person can find multiple uses for it in their everyday lives. Taking this product to market means consumers and even businesses can finally keep track of their belongings and tasks in a simple and affordable way."
Thingzo is ideal for consumers looking for an easy-to-use tracker around their home or office. The device can be productive for anyone, but especially parents, pet owners, caregivers, rental property owners, singles and people who share living space. To use Thingzo, simply attach the device to an object such as a door, container lid or drawer using the special adhesive. Thingzo is a standalone product, so there is no need for calibration or setup. With Thingzo, consumers can determine when something happened in an area without actually being present.
For individuals concerned about their privacy, Thingzo can be placed in a home, office, personal storage space, safety deposit box or any additional storage area. It can tell if roommates, children, colleagues or hired help get into personal belongings. It can help remind if a task has been done, such as taking medicine. Parents can stick Thingzo to laptops, appliances, liquor cabinets and doors throughout their home. Homeowners and vacation rental owners may also find Thingzo useful to ensure guests and hired help do not access their restricted areas. Pet lovers may also use Thingzo to help manage tasks such as if someone fed the dog or if the fish tank needs cleaning, and to be informed such as when the cat left the house through the pet door. No matter what consumers use Thingzo for, the movement-sensing timing device helps keep users' life in order and their mind at ease.
Many devices that are currently available on the market tend to be overpriced or are too complicated to operate. The simplicity of Thingzo is perfect for people who do not want to spend a lot of time setting up and calibrating a sensor. The display is clearly visible allowing users to monitor the amount of time since the object was moved. Measuring at about 1" x 2" x ⅛", Thingzo is the size of a small luggage tag.
Thingzo launched on Kickstarter today with plans to raise $75K in 30 days. The team is offering the tracking device, available in a deep red color, at discounted prices starting at $12, which is 20% off the future retail price. Backers who support the project will purchase Thingzo at the lowest discounted price available. For more information, visit the campaign at bit.ly/ThingzoKS.
About Thingzo, Inc.
Thingzo, Inc. is an early-stage startup located near Boston, Massachusetts. The company owns the patent for a movement-sensing methodology that enables consumers and businesses to implement affordable, easy-to-use sensing devices that tell them when an item was used. For more information on Thingzo, visit bit.ly/ThingzoKS.