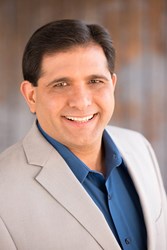 Self-discipline begins with the mastery of your thoughts. If you don't control what you think, you can't control what you do. Simply, self-discipline enables you to think first and act afterward - Napoleon Hill​
Austin TX (PRWEB) August 20, 2013
"Universal Seminars is thrilled to add a dynamic keynote speaker, Adil Dalal, to the stellar line-up of speakers at Napoleon Hill's Think & Grow Rich World Tour and to partner with the Human Development & Leadership division of ASQ" says Erik Swanson, CEO, Universal Seminars.
Napoleon Hill's Think & Grow Rich book is the Top 10 books ever printed and sold in the world. Universal Seminars is taking the message from the book on the road with the Think & Grow Rich Stickability Tour. Erik Swanson says, "We have gathered one of the most awesome, amazing, and respected speakers, authors, and instructors of Dr. Napoleon Hill's philosophy today who will freely share their knowledge and wisdom with the audience for a full day." The speakers include some renowned personalities and Napoleon Hill experts like Greg Scott Reid, Sharon Lechter, Erik Swanson, Frank Shankwitz, Savannah Ross and Tom Cunnigham, to name a few.
Universal Seminars has announced that another dynamic keynote speaker, Adil Dalal will share the stage with these esteemed speakers. Adil Dalal was the opening keynote speaker at the Napoleon Hill Conference in Malaysia in 2012, and shared the stage with Dr. Deepak Chopra, J.B. Hill – grandson of Napoleon Hill, and other great speakers. Erik says, "Adil will join us to inspire the audience to live a legacy & leave a legacy using the power of visualization™ and to share his passion and vision for a better existence for ALL of us on this beautiful planet through his amazing and benevolent 'A Million Legacies' project." Adil will be speaking in Austin, TX on August 21 and in Toronto on September 12.
Universal Seminars is among America's and North America's leading authorities on the development of human potential and personal effectiveness. The seminar speakers are dynamic, entertaining and motivational with a wonderful ability to inform and inspire audiences toward peak performance, time management, sales & management strategies, and high levels of commitment and achievement.
The Human Development & Leadership is a division of ASQ, a professional global society. The global vision of HD&L is to make human potential an organizational and personal priority. HD&L is committed to providing value added content via products & services.
Adil Dalal is Chair of the Human Development, the CEO of Pinnacle Process Solutions International®, LLC, host of See2B Talk radio, an accomplished keynote speaker and an award-winning author. Adil's mission is to focus on enhancing and optimizing the human potential for ensuring the long term success of individuals, corporations and nations.