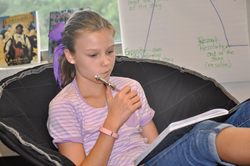 "I think the pen is a fantastic focus tool that is functional as well as fidget-friendly" GeekMom
Austin, TX (PRWEB) January 18, 2017
A recent video posting of a new fidget product gathered online momentum as 25 million people opened a global discussion about the benefits of fidgeting to relieve stress and anxiety. No one was more surprised than Think Ink Pen founders Kent Lyon and Jym Daniel. Their Think Ink Pen had just completed a successful Kickstarter campaign raising $67,000 on the popular crowdfunding platform. "We've been in production mode since mid-December and we were really caught off guard by all of the attention and publicity," said Daniel. Interestingly, the video almost never happened.
Owner Kent Lyon came up with the idea of a fidget pen to help his daughter, who suffers from anxiety. "It's not professional to carry a toy or a stress ball into a meeting" said Lyon. "It just made sense to go with a pen." They had hoped to launch their crowdfunding campaign in September 2016, but, their marketing team was convinced they needed a better video to clearly demonstrate all of the things the pen could do. "We resisted at first, because we knew the timing would be worse later in the fall", said Daniel.
As predicted, sales were initially strong until Thanksgiving. Then it gave way to Holiday shoppers. "We really felt like we had blown our chance because the video delayed our launch and we got lost in the Holiday season," said Lyon.
Fast forward to January 2017. Popular social media publisher Viral Thread emailed Think Ink asking permission to create an edited version of the video. "I emailed back 'sure' and pretty much forgot about it," relates Daniel. But they soon realized this was no simple posting. "It was crazy. A Million views….5 Million…then 10 Million….totally unexpected!" said Daniel.
As a result of the initial posting by Viral Thread, multiple other online publishers have gone on to create and post their own versions of the original video resulting in over 25 Million views and 150,000 shares attributed to Think Ink Pens in just under 1 week. Daily sales on Think Ink Pens Indiegogo Pre Order site skyrocketed 4000%. Their facebook following grew 500%.
"It's a HUGE relief" said Lyon. "and more importantly, it has really validated the health benefits of fidgeting. It's a real issue with students and young adults and we're so glad the pen has resonated with so many people."
"It's a damn good thing we decided to go with the new video," Daniel laughs. "Every once in awhile we get something right!"
Think Ink Pens expects to deliver their fidget tools in April of 2017. The Think Ink Pen, along with its sister collection of Fidget Sliders (slides onto pencils and disposable pens) is still available to pre order on Indiegogo Indemand.