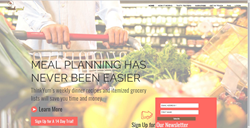 The vision for this project stems from our love of cooking
(PRWEB) November 23, 2015
While cooking from home is both healthier and cost-effective, it may also be time-consuming for those on-the-go to plan recipes and shopping lists. Today, ThinkYum announced its new offer of online, subscription recipes making meal planning simpler, more accessible and stress-free.
ThinkYum offers weekly, monthly, quarterly and annual subscriptions from $6 per month which include weekly emails detailing recipes, instructions and printable grocery lists making mealtimes quick and simple. Weekly recipes can be easily printed, or saved and stored on the computer for future use.
"The vision for this project stems from our love of cooking," says Mitch Jansen, founder and CEO. "My wife and I found ourselves getting into 'food ruts' where we were only eating the same 7 or 8 meals over and over. ThinkYum brings the creativity to you while cutting costs of eating out and the time of planning meals day-to-day."
In their subscriptions, users will have access to weekly printable recipes, shopping lists, color photos of finished products, nutrition facts and flexible payment plans. On top of trying new, delicious recipes each week, having a weekly meal plan means less shopping for clients, less money spent in the grocery store, limiting food waste buy only buying specific quantities for recipes and healthier, creative cooking options.
ThinkYum caters to cooks of all levels from experienced home chefs, novices who need some creative inspiration and busy couples who are tired of eating the same meals over again. With ThinkYum, subscribers have access to the best brands, products and services they trust. With secured online bill pay, users can pay their subscription fee with ease of mind, knowing that their information is protected.
ThinkYum also plans to enhance the service in the near future making subscriptions even more convenient and easy-to-manage for users. Such enhancements include:

Development of a ThinkYum mobile app
One-touch coupon delivery for ingredients and estimated cost
Ability to auto-scale recipes based on servings desired
Online feedback submissions for clients
Backlinks to third-party websites for further recipe instruction and cooking techniques
Weekly recipe submission contests
On-demand delivery of recipes based on dietary restrictions
Multi-lingual site options to appeal to multiple language speakers
ThinkYum is designed with the consumer in mind, making home cooking easy, affordable and manageable. For more information, please visit their site at http://www.thinkyum.com.
About ThinkYum:
The brainchild of Midwestern, industrial design engineer Mitch Jansen, ThinkYum was founded on the premise that advance weekly meal planning would allow him and his wife to partake in the joy of cooking together, while eating healthier foods, avoiding unnecessary food spoilage and saving money at the local grocery store. Leveraging a web-based subscription commerce business model, Jansen created ThinkYum to deliver subscribers a weekly family meal plan, comprised of seven delicious, easy-to-prepare recipes and an itemized shopping list for swift, convenient grocery shopping. Each recipe has been carefully chosen by a team of culinary experts based on taste quality, easy, straightforward preparation, seasonal availability of ingredients required and healthy, nutritional values.