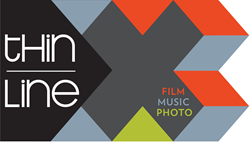 "Offering free access to Thin Line Fest has long been a dream of ours and we're thrilled to finally make this happen in our tenth anniversary," said Joshua Butler, Festival Director.
Denton, Texas (PRWEB) July 27, 2016
The number one reason people miss out on film and music festivals is the price; but Denton, Texas-based Thin Line Film, Music, and Photography Festival aims to change that in 2017 when the fest celebrates its tenth anniversary by going completely free.
"Offering free access to Thin Line Fest has long been a dream of ours and we're thrilled to finally make this happen in our tenth anniversary," Joshua Butler, festival director, said. "Our focus has always been the programming. As a volunteer-run public charity, our mission is for each film, band and photograph to be seen by as many people as possible."
If costs keep people out of theaters, cold weather keeps people away from outdoor events. A problem festival organizers solved by moving the festival to April. The tenth annual Thin Line Fest will be held April 19-23, 2017. With the warmer weather, Thin Line will expand its footprint to include outdoor programming and activities on the Denton downtown square. "Outdoor film, music, photography, and a couple other big outdoor surprises will ensure that anyone in Downtown Denton during the festival will have a Thin Line Experience," Butler said. The new spot on the calendar also means a chance at better programming.
"The February dates meant we were always competing with South by Southwest (SXSW) and Dallas International Film Festival for the big Texas premieres," Film Program Director Stanton Brasher, said. "Now we'll have a better shot at getting films out of Sundance and even films world premiering at SXSW."
Festival submissions open September 1 and run through the end of January. Submissions are accepted for all three art forms: film, music, and photography. This year, Thin Line Fest will also accept narrative work that is based on a true story. Fees vary by type and date of submission. More details will be available at the festival website this fall.
Sponsors include Panavision and the Denton Record-Chronicle. Sponsorship opportunities are now available for the 2017 season. Individuals who donate fifty dollars or more during a calendar year are welcomed into the Above the Line Club, where they will receive access to exclusive events such as artist meet-and-greets and gallery openings, as well as discounts on Thin Line merchandise. A VIP pass providing early access to venues, reserved seating at film events, access to festival hospitality and other VIP-only events will also be available.
To learn more about Thin Line Fest, visit http://www.thinline.us. Also, like Thin Line Fest on Facebook, Instagram and Twitter.
BOILERPLATE:
The Thin Line Fest is a non-profit festival in Denton, TX that showcases independent talent in photography, music, and film. It is the only documentary festival in Texas and has featured documentaries from Davis Guggenheim, Josh Fox, Jason Lee, Harry Shearer, Alan Berg, and more.