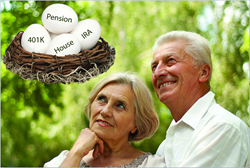 Palo Alto, CA (PRWEB) December 27, 2013
Avenidas will host its third annual financial conference, entitled "Building Security for Longevity," from 8:30 a.m. to 2 p.m. Saturday, Jan. 25.
Avenidas is located at 450 Bryant St. in Palo Alto, California, and ample free parking will be available for the conference. The focus will be on protecting financial nest eggs, and the conference's sponsors are Home Instead Senior Care, real estate agent Nancy Goldcamp of Coldwell Banker, Channing House, Seniors at Home, The Avant, and Carla Cumpston, CFP of Edward Jones Senior Seasons.
The early registration cost to attend the conference is $40 for Avenidas members and $45 for non-members. These prices are good through Jan. 16. After that date, registration becomes $50. This includes keynote, a private consultation opportunity, conference materials and giveaways, a choice of three workshops, and access to the sponsors. Lunch can be purchased for an additional $10 when registering. To register, please visit Avenidas' website. For more information about the conference, please call 650-289-5435. Information about Avenidas' winter classes and memberships are also available on the website. Avenidas allows adults 50 and older to stay in their homes as they age. Members have access to services that includes social activities, volunteer opportunities, and much more.
About the company:
Avenidas is a non-profit agency that seeks to create a community that supports and celebrates older adults. It provides a wide range of support options, information, and services that enable people to stay active, maintain their independence, help their aging parents, or care for a spouse. Avenidas' innovative programs and compassionate staff help enrich the lives of more than 6,500 mature adults and their families each year. Avenidas serves the mid-Peninsula communities of Palo Alto, East Palo Alto, Stanford, Menlo Park, Los Altos, Los Altos Hills, Atherton, Portola Valley, Woodside, and Mountain View. For more information, please visit http://www.avenidas.org.