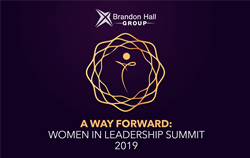 Women In Leadership offers current female corporate leaders a diverse community to enhance skills and share ideas and build more inclusive environments to improve personal and organizational performance
FORT LAUDERDALE, Fla. (PRWEB) April 30, 2019
Brandon Hall Group will host the third annual Women In Leadership Summit May 1-2 at the Fort Lauderdale Marriott Harbor Beach Resort & Spa. The Summit is for women and men in leadership roles, including mid-level to senior managers, directors, VPs and C-Level executives in corporations, nonprofits and government agencies, to help drive personal development and improve leadership programs in their organizations.
Brandon Hall Group research validates the need to offer targeted development opportunities for women to improve capabilities, communication, understanding and sensitivity among genders and cultures. To grow and achieve their potential personally and professionally, women need support for addressing the unique internal and external obstacles they face.
"Women In Leadership offers current female corporate leaders a diverse community to enhance skills and share ideas and build more inclusive environments to improve personal and organizational performance," said Rachel Cooke, Brandon Hall Group COO and Principal HCM Analyst. "In our extensive research on organizations who live the values of diversity and inclusion, we have created a vision for the future for women in corporate leadership with specific strategies to make it happen."
The Summit also features a recognition ceremony for the 2018 Excellence Awards in the Women In Leadership and Diversity and Inclusion categories. Executives from Accenture, Bank of America, Concentrix, Dow Jones, GSK and MetLife will receive awards for their progressive programs.
Julie Harris, head of Bank of America's Global Banking Mobile Strategy, will keynote the Summit, speaking on developing and empowering women from a business, economic and societal standpoint. Her organization also was featured on the cover of Brandon Hall Group's Women In Leadership magazine, released earlier in the year. Harris will share how her company's approach to advancing women in leadership transcended traditional development programs and became an ecosystem designed around growing and supporting women leaders.
"In each session you will hear from leaders who excel at developing employees and creating inclusive environments in their organizations," said Melissa Benavides, Events and Creative Manager at Brandon Hall Group and Summit organizer. "The speakers will also share how they navigated through the challenging business environment and offer advice for breaking through the glass ceiling."
The Summit sessions are:

Empower Women. Empower Growth
Coaching and Mentoring Strategies for Women
Bridging the Gap Across Generations in the Workplace (Recruit, Develop and Retain Talented Women)
Building a Culture that Embraces Women Leaders
WIL Award Winners Celebration
The Future of Women In Leadership
What Got You Here Won't Get You There: Acquiring New Skills for the Next Level
Building a Framework and Scorecard for Capturing ROI for Women's Leadership Initiatives
How to Advance Women In Technology Leadership
What Does It Mean to be Inclusive – Global Implications for ROI
Action-Planning Workshop: Prioritize Critical Objectives to Advance Your WIL Initiatives
Visit http://brandonhall.com/WIL/annual-summit.html for more information.
---About Brandon Hall Group Inc.
Brandon Hall Group is an HCM research and advisory services firm that provides insights around key performance areas, including Learning and Development, Talent Management, Leadership Development, Talent Acquisition and HR/Workforce Management.
With more than 10,000 clients globally and 25 years of delivering world-class research and advisory services, Brandon Hall Group is focused on developing research that drives performance in emerging and large organizations, and provides strategic insights for executives and practitioners responsible for growth and business results.
At the core of our offerings is a Membership Program that combines research, benchmarking and unlimited access to data and analysts. The Membership Program offers insights and best practices to enable executives and practitioners to make the right decisions about people, processes and systems, coalesced with analyst advisory services which aim to put the research into action in a way that is practical and efficient. (http://www.brandonhall.com)