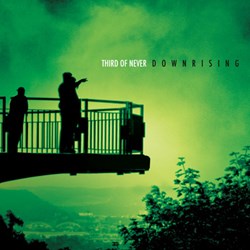 "Well arranged and produced contemporary rock music with the sounds of The Who and The Smithereens." - Rootstime
Raleigh, NC (PRWEB) September 17, 2013
Third Of Never releases their latest album, "Downrising," in the summer of 2013. The band embraces their influences—The Who, R.E.M., The Smithereens, 13th Floor Elevators, and The Kinks--creating an album that conveys a "surrealistic psychedelia." "Downrising" continues a lyrical story that began with their debut album, "Moodring." Third Of Never is Jon Dawson (Guitars, Percussion, Keyboards), CJ Grogan (Vocals, Guitars, Keyboards), Vince Grogan (Bass), Mike Polilli (Drums), and Kurt Reil (Vocals, Guitars, Keyboards).
Third Of Never's sound will naturally appeal to fans of The Who, R.E.M., and Guided By Voices. However, the band took a new approach to the music on "Downrising" in order to distinguish the new album's sound from that of their first release. Dawson states, "The intent was to, if possible, not repeat one single note from the "Moodring "album, except for a few D chords; I think we accomplished that. Instead of piling on and trying to make this album bigger, the idea was to strip things down a bit while remaining fully clothed."
"Downrising" was primarily recorded at House of Vibes in Highland Park, New Jersey, and features performances by John 'Rabbit' Bundrick (The Who, Bob Marley, David Gilmour, Roger Waters) and Dennis Diken (The Smithereens). Brundrick also co-wrote "Green Roses" and "On My Way" with Dawson, Grogan, and Reil. The album was produced by Kurt Reil with Jon Dawson and CJ Grogan, and mixed and mastered by Kurt Reil.
For more information about Third Of Never visit http://www.thirdofnever.com
For more information, images, or to arrange for an interview with Third Of Never, please contact Melissa Zeigler at Powderfinger Promotions: melissa(at)powderfingerpromo(dot)com
Powderfinger Promotions–Independent Radio Promotion and Publicity. Since being founded in October 1994, Powderfinger has come to be regarded as a top indie radio promotion and publicity firm with ties across North America.