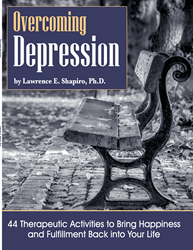 Assignments given by therapists will accelerate client growth and improve outcomes.
NORWALK, Conn. (PRWEB) September 06, 2019
Very few people have fond memories of doing homework in school. But would you mind doing homework that could make you happier, less anxious, and give you the psychological skills to lead a happier and more fulfilling life?
BetweenSessions.com is a new website that provides therapeutic homework for therapists to give to their clients. The site has more than 2,000 tools on a wide range of topics from dealing with obsessive hand-washing to coping with the death of a loved one. The site has worksheets, audio files, even games that people can print out and play to augment their therapy.
According to Dr. Lawrence Shapiro, founder of Between Sessions Resources, when therapists assign psychological homework to their clients, they have a quicker reduction of symptoms because they feel that they have more control over their lives. Studies suggest that when therapists assign homework to their clients, outcomes improve an average of 30 percent. Dr. Shapiro explains, "Most therapists today use evidence-based therapies rooted in Cognitive Behavioral Therapy. These therapies focus on specific psychological skills that people can learn, like tolerating intrusive thoughts, developing a social support network, and controlling their impulses. It only makes sense that if a person is learning a new skill, he or she needs to practice this skill in real-life situations. That's what our homework is designed to do. Each tool on our site can be downloaded and printed by a therapist and then given to a client to work on their problems between sessions."
The company has also recently released new software that will allow therapists to "write" a book of techniques for a client in less than an hour, based on the problems that trouble clients most. The book acts a "blueprint" for therapy, as well as a permanent record of a client's progress. Shapiro developed the Psychotherapy and Counseling Workbook Creator after researching the techniques and variables that are associated with successful therapy outcomes. Dr. Shapiro explains, "Many people think that counseling and psychotherapy is only about going to weekly sessions to talk to a therapist and get advice. However, the practice of psychotherapy has become much more research-based in the last few decades, particularly with the new studies of the way our brains work. We now believe that practicing specific psychological skills can help re-wire the brain, creating new neural pathways that can permanently change the behaviors and symptom patterns of clients."
Angie Doel, Director of Operations, notes that the company has a high-level mission of "upgrading" the mental health system. She explains, "Unfortunately, the mental health system is not on par with the broader health system in the U.S. In fact, research from the Centers for Disease Control suggests that nearly 40% of people with serious mental health problems are not receiving adequate services. We hope to change this by systematizing the delivery of psychotherapy and counseling, making it easier for professionals to provide effective therapy in shorter amounts of time."