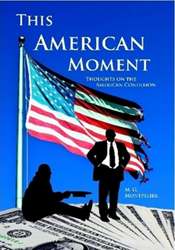 EPSOM, N.H. (PRWEB) August 08, 2016
"This American Moment: Thoughts on the American Condition" (published by Lulu) is a commentary on the reality of the frustration, challenges and uncertainty of a collective people suffering – a people struggling day-to-day to survive the betrayal, corruption and desolation of deregulation, free trade and the predatory economic agenda of America's subsistence trickle-down economy.
Author M. G. Montpelier says his new book is about "The 'pooring' of the people of America under the oppressive burden of 'special interest' crony capitalism by a dysfunctional political establishment reluctant to protect and defend the economic security of the people of America accomplished through the 'repeal' of the rule of law in business, finance, and politics, the dismantling of America's manufacturing economy, and the 'outsourcing' of American jobs in the pursuit of cheap labor and fairy-tale profits."
Montpelier was inspired to write down his thoughts on the current American condition because of his concern for his grandchildren's future in the wake of America's dismal economic state.
"It was not so long ago every American shared in some way the covenant of the 'American Dream' – yesterday's promise of an America of opportunity for all working Americans," he explains. "I have witnessed firsthand for over forty years America's economic collapse and the demise of middle class prosperity. The more I contemplated my grandchildren's world of tomorrow and no possibility of retirement for today's average American, the more I became convinced this is the time for an average American to say something."
"This American Moment"
By M. G. Montpelier
Softcover | 5.83 x 8.26in | 130 pages | ISBN 9781483454436
E-Book | 130 pages | ISBN 9781483454429
Available at Amazon and Barnes & Noble
About the Author
M. G. Montpelier is a Catholic, Eagle Scout, teacher, genealogist and retired federal officer. A father and grandfather, he is a native of Rouses Point, New York, and a graduate of Paul Smith's College and the State University of New York at Plattsburgh. In retirement, Montpelier enjoys riding the rails of the world's classic rail journeys. He resides in Epsom.
Lulu empowers people of all ages to explore and express their interests, passions and expertise through books, photography and art. Since introducing self-publishing in 2002, Lulu has empowered creators in more than 225 countries and territories to produce nearly two million publications. Lulu Jr. allows children to become published authors, encouraging creativity, strengthening literacy and building self-esteem. Picture.com offers professional photography of collegiate and professional sports, memorable and historic events, fine art and home décor. For more information, please visit lulu.com.
###