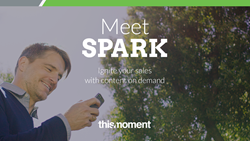 San Francisco, CA (PRWEB) March 26, 2015
Thismoment, a SaaS technology company that enables companies to source, manage and distribute content through any channel, at any time, on any device, today announced the launch of Spark, a web-based mobile sales enablement app built on top of their widely-adopted content marketing platform, Content Cloud.
Developed specifically for large distributed sales teams, Spark is designed to lower content development costs and shorten sales cycles by allowing sales reps to effortlessly deliver the right content to their customers during or immediately following a meeting.
While over 75% of marketers report sales as a top priority for content creation, only 38% of them believe the content and campaigns they deliver are effective. These statistics point to the fact that content is imperative to the sales process, but in many cases, the content being created and distributed lacks impact. Spark bridges the gap between content impact, efficiency and demand.
"As seasoned sales teams know, there is no such thing as a one-size-fits-all when it comes to sales content," comments Vince Broady, Thismoment Founder and CEO. "Because every customer buys for a very specific business need, the content that is right for one buyer may not be right for the next. With Content Cloud, marketing teams curate playlists of available content and then sales selects the content that is right for their customer at that moment and distributes it to the device that makes the most sense."
Through Spark, sales teams have convenient access to content playlists containing a mashup of both owned content (company-created materials) and earned content (curated news, user-generated photos and videos, etc.). A sales rep's flexibility to then select, mix and share the perfect mix of content playlists with their customers through email and text messaging increases relevancy and immediacy, and offers a personal touch seldom found in sales materials.
"Thismoment understands that content plays a critical role in every stage of the sales cycle, from cultivating awareness and consideration to prompting purchase," said Rebecca Lieb, an analyst at Altimeter Group. "Figuring out the best way to aggregate, curate and distribute the most relevant and effective content for every stage is one of the biggest challenge content marketers face. Technology makes this process much more efficient."
Spark is the first in a series of apps Thismoment is developing to enable a wide range of constituents — from customer support organizations to retail store associates, social influencers and throughout the enterprise — to deliver content in real-time to their customers.
The app has been purpose-built to address the needs of both marketers and salespeople:
Marketing teams love Spark because it:

Delivers more effective content to the field by allowing them to organize it into interactive "playlists" that tell stories for every situation or customer a field rep encounters
Promotes higher utilization and engagement of content by making it available on mobile devices, and enabling delivery of content from mobile devices
Connects to their CRM and marketing automation solutions, so they can analyze and optimize content performance from first interaction all the way through revenue
Sales teams love Spark because it:

Helps them to quickly find and share content on-the-go through access to marketing curated content playlists
Allows them access to an easy-to-use drag, drop content interface, so they can conveniently craft the perfect content "playlists" for any customer situation
Helps them to stand out from the competition and accelerate deal flow by enabling them to text or email playlists directly from a mobile device during or immediately following a customer meeting
Click here for more information on the Spark app, and visit Thismoment.com for more information on other available solutions.
About Thismoment
Thismoment is a marketing technology company that enables the world's biggest companies to connect with their target audiences in real time on any device. Through our SaaS marketing platform, Content Cloud, we enable effortless content curation, digital experience creation and sharing, and seamless enterprise technology integrations. More than 150 top brands and agencies use Thismoment, including Coca-Cola, Intuit, Levi's, Sephora, Fleishman Hillard and Digitas. For more information, visit http://www.thismoment.com.
###