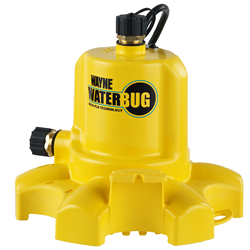 We are truly gratified that This Old House recognizes our WAYNE WaterBUG with Multi-Flo technology as a valuable resource for homeowners. - Jeremy Cantor, VP Sales and Marketing, WAYNE Water Systems
Harrison, Ohio (PRWEB) November 03, 2016
WAYNE Water Systems today announced the WAYNE WWB WaterBUG Submersible Water Removal Pump with Multi-Flo Technology has been selected as one of This Old House Magazine's "TOH Top 100 Best New Home Products of 2016." The editors tested hundreds of products launched in 2016 to find the most unique, helpful and coolest home products in seven categories. The WaterBUG pump is among only 14 products in the Tools category.
"With standing water removal being so critical to reducing structural damage, as well as in the fight against Zika, we are truly gratified that This Old House recognizes our WAYNE WaterBUG with Multi-Flo technology as a valuable resource for homeowners," said Jeremy Cantor, VP Sales and Marketing, WAYNE Water Systems.
He explains WaterBUG can remove water down to 1/16th of an inch of water on a surface, making the area virtually dry. WAYNE Pumps' Multi-Flo Technology lets users choose the appropriate discharge for the application. The top discharge of the WaterBUG is excellent for removing water in confined spaces, such as window wells. The side discharge removes water in open areas such as flooded basements or yards.
Assembled in the United States, the WaterBUG also features a multi-ring suction strainer that filters debris, ensuring the suction intake remains clear to minimize clogging.
Now in its sixth year, the "TOH Top 100" appears in the November/December issue of This Old House Magazine and online at http://www.ThisOldHouse.com/top100. It is read in print and online by nine million people.
To learn more about the WWB WaterBUG Submersible Water Removal Pump with Multi-Flo technology, visit http://www.waynepumps.com or keyword search it on Amazon.com or HomeDepot.com.
About This Old House
This Old House Ventures Inc. is America's premier home enthusiast brand, netting 50 million multi-media impressions each month through its award-winning television, print, and web properties. The leading consumer publication for home how-to and inspiration, the award-winning This Old House magazine currently has a circulation of 950,000 and reaches an audience of almost 9 million. This Old House is available on tablets and is published by the Time Inc. Lifestyle Group, a division of Time Inc., the largest magazine media company in the U.S.