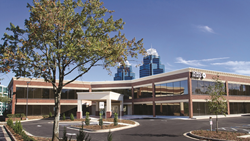 "It's very important that we continually invest in the latest technologies...The Tecnis Symfony lenses are yet another advancement that will allow our doctors to deliver the highest quality patient care available" - Rod Roeser, CEO for Thomas Eye Group
Atlanta, Georgia (PRWEB) September 21, 2016
Thomas Eye Group, a leading metro Atlanta eye care provider that offers comprehensive services including LASIK and medical, surgical and cosmetic eye care, announced today that it is among the first ophthalmology groups in the nation to implant the new Tecnis Symfony and Tecnis Symfony Toric lenses for cataract treatment. The recently FDA-approved lenses from Abbott Medical Optics are the only lenses in the United States that provide a full range of continuous high-quality vision following cataract surgery, while also mitigating the effects of presbyopia by helping people focus on near objects. The FDA approval includes a version of the lens for people with astigmatism, a condition that causes blurred or distorted vision.
"We have implanted traditional multifocal lenses for years, but they're limited to improving near and distance vision," said Dr. Leon R. Gross, Thomas Eye Group ophthalmologist specializing in cataract and lens-based surgery. "The new technology of IOL provides an extended range of vision that includes mid-range, allowing patients to clearly see their computer screens, read music or play sports like golf that require sharp near, mid-range and distance vision."
The advanced IOL can solve the problem of glare and halos in low light situations such as driving or reading a book or restaurant menu and diminish reliance on contact lenses and eye glasses post surgery, providing patients with more options for their active lifestyles.
Cataracts, the clouding of the eye's natural lens, affect more than 22 million Americans and that number is expected to climb to 30 million by the year 2020. Cataracts are also the most common cause of vision loss in people over age 40 and the principal cause of blindness in the world.
The surgery, which takes 15 minutes, involves replacing the damaged natural lens with an artificial lens and is meant to be a permanent solution. Vision in most patients returns within 24 hours and continues to improve during the next two to three weeks.
"It's very important that we continually invest in the latest technologies," said Rod Roeser, CEO for Thomas Eye Group. "The Tecnis Symfony lenses are yet another advancement that will allow our doctors to deliver the highest quality patient care available."
Dr. Gross added, "With the offering of new advances in surgery, it's important for patients to discuss their vision goals and lifestyle preferences with their surgeon to make the most informed decision about which treatment options are right for them."
For more information on cataract surgery and its benefits, contact Thomas Eye Group at 678-892-2020 or visit http://www.thomaseye.com.
About Thomas Eye Group (http://www.thomaseye.com) Founded in 1974, Thomas Eye Group has served the greater Atlanta community by providing eye care services to patients ranging in age from infants to seniors. Thomas Eye Group is a full service eye care provider with offices in seven locations in and around the greater Atlanta area providing routine eye exams, glasses, contact lenses, LASIK, refractive cataract surgery, as well as other medical, surgical and cosmetic services. Many Thomas Eye Group physicians have undergone additional, highly specialized sub-specialty training to offer services including oculoplastics, pediatrics, cornea, retina, and glaucoma. Completing our service offering is the state-of-the-art Thomas Eye Surgery Center offering patients comfort and convenience for their surgical needs. Find us on Facebook and Twitter.
About The Consumers' Choice Award Established in 1987, the Consumers' Choice Award® identifies and promotes businesses that deliver customer service excellence. The Consumers' Choice Award® has retained a leading independent research firm to conduct surveys in U.S. cities; Atlanta, Columbus, Cincinnati and Dallas. The winners are determined by consumers and not by a panel of judges. The survey covers a broad range of categories of interest to both the public and business communities. Its purpose is to publicly identify those establishments that have been voted by consumers as being their choice for excellence. The Consumers' Choice Award® is a most prestigious tribute to local businesses that serve their communities well. The program is encouraged by all levels of government and by business leaders.