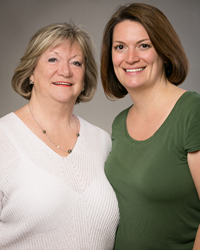 The new office is in a great location and has state-of-the-art facilities for meeting our clients.
Boulder, CO (PRWEB) June 16, 2016
Janet Thompson and Kirsty Daviau are a mother and daughter team and the founders of Thompson Daviau Realty, who have over 20 years' experience between them in the local real estate market. They recently announced they have a new office location. "Everyone should move at least every five years," said Thompson. "It's what we tell our clients; change as you grow."
In addition to the new address, 4450 Arapahoe Avenue, Suite 100, Boulder, Thompson Daviau Realty has a new logo and new signs. As for the office, it is larger, has glass windows throughout and has majestic views of the foothills and Devil's Thumb. "That's what Boulder is all about," said Daviau. "The new office is in a great location and has state-of-the-art facilities for meeting our clients."
Prior to becoming Realtors and starting their own company, both Thompson and Daviau relocated from London, England, to Colorado in 1991, and have lived in Boulder County ever since. Both have earned the Certified Residential Specialist(CRS) designation, which is the highest and most prestigious designation awarded to sales associates in the residential sales field. Every CRS designee is required to maintain membership in the National Association of REALTORS® and to abide by its strict Code of Ethics.To stay ahead in the competitive real estate industry, Thompson and Daviau continue to attend real estate seminars and classes.
"We are committed to working together with our clients to give them the best service and support in the business," said Thompson. "Reliable and trustworthy, we greatly value honesty and integrity. Our relationship with our clients continues long after the transaction has closed. 'For the professional advice you need and the personal attention you deserve,' that's our motto."
About Janet Thompson and Kirsty Daviau, Thompson Daviau Realty
Thompson Daviau Realty mainly services Boulder County and the surrounding areas of Broomfield, Adams, Jefferson and Weld Counties, CO. Janet Thompson and Kirsty Daviau are Accredited Buyer's Representatives (ABR) and Certified Negotiation Specialists (CNS). Janet also has a Cendant Mobility Relocation Specialist (CMRS) qualification. Both are members of the Colorado Association of Realtors®, and Janet is a member of the Longmont Association of Realtors® while Kirsty is a member of the Boulder Association of Realtors®. For more information, please call (303) 564-8746, or visit http://www.thompsondaviaurealty.com.
About the NALA™
The NALA offers small and medium-sized businesses effective ways to reach customers through new media. As a single-agency source, the NALA helps businesses flourish in their local community. The NALA's mission is to promote a business' relevant and newsworthy events and achievements, both online and through traditional media. For media inquiries, please call 805.650.6121, ext. 361.