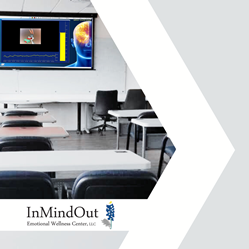 Clinicians trained in biofeedback typically use clinical grade equipment to perform a psychophysiological assessment and can bring forth a much deeper level of knowledge about what metrics are important.
MONTREAL (PRWEB) May 25, 2023
Thought Technology, an international leader in the field of psychophysiological monitoring equipment, is offering two upcoming workshops at their Montreal headquarters, designed to provide clinicians with the fundamentals of Biofeedback and neurofeedback in order to add or enhance their knowledge of these techniques for their practice.
More and more, people are looking to technology to stay on top of their personal health metrics, sometimes without a deep understanding of what the data means. Clinicians trained in biofeedback typically use clinical grade equipment to perform a psychophysiological assessment and can bring forth a much deeper level of knowledge about what metrics are important, how to use the information learned from assessing specific metrics, and how to help their clients lead healthier lives or perform at a higher level.
This course focuses on the typical parameters used in biofeedback, such as heart rate, temperature, skin conductance, blood volume and muscle activity, along with how to use this information in practice. The neurofeedback course will focus on EEG and the areas of the brain that are associated with different disorders such as ADHD, anxiety and depression, among others, and how neurofeedback can be used to ameliorate these conditions and optimize brain activity.
Both courses will be instructed by Dr. Manuel Halter and registration is now open.
Biofeedback Certificate Course
Date: July 14-15, 2023
Time 8:30-5:30 EDT
Location: Montreal, QC
Neurofeedback Certificate Course
Date: July 16-17, 2023
Time: 8:30-5:30 EDT
Location: Montreal, QC
About the Instructor
The workshops will be instructed by Dr. Manuel Halter, an experienced neuroscience researcher who has worked with the U.S. military as well as universities to develop cutting edge assessment and training programs in cognitive neuroscience and human performance. A Green Beret and a retired member of the U.S. Army's Special Forces, Dr. Halter, continued his education and completed his degree of Doctor of Philosophy with a specialization in talent performance optimization. He also holds an undergraduate degree in Psychology, a Master of Arts in Developmental Psychology, and a Master of Arts in Clinical Neuropsychology. Dr. Halter currently works at InMindOut supervising the neurofeedback and QEEG programs in addition to teaching practitioner's biofeedback, neurofeedback, and QEEG.
About Successful Practitioner
Successful Practitioner's philosophy is to break through the mental health epidemic using today's advanced health technology. Our mission is to empower health and wellness providers to transition away from traditional medicine to a more advanced whole body preventative healthcare. We believe in the importance of embracing the use of technology to help prevent issues before they begin, identify existing issues, and repair any damage that has occurred to help the community live a fuller, healthier, and happier life. Successful Practitioner enhances professionals' abilities to provide better assessment and care options to their clients. Successful Practitioner's goal is to share its passion and decades of resources with professionals so they can best serve their immediate communities.
Successful Practitioner helps passionate professionals navigate the challenges of becoming properly educated, equipped, and prepared to provide gold standard wellness services including education in Biofeedback, Neurofeedback, and QEEG as well as mentorship and business consulting. Successful Practitioner's education is powered by InMindOut.
About InMindOut Emotional Wellness Center
InMindOut Emotional Wellness Center partners with Successful Practitioner to offer educational and professional services to biofeedback, neurofeedback, QEEG practitioners, as well as other mental health and wellness professionals. We take a team approach, collaborating with the best instructors and educational providers in the fields of neuroscience, psychology, ethics, and behavioral science to provide the latest empirically supported research and hands-on experiences.
The InMindOut Emotional Wellness Center is an unbiased educational provider. All courses we offer are approved certificate courses by the following boards; Biofeedback Certification International Alliance (BCIA) and International QEEG Certificate board (IQCB). Courses are offered in various formats including online and hybrid hands-on options.
About Thought Technology Ltd.
Founded in 1975, Thought Technology is the world's leading biofeedback and physiological instrument manufacturer. Its products are used as an essential part of many therapeutic treatments and clinical assessment protocols in over 85 countries and are used by tens of thousands of clinicians in thousands of medical institutions.
Always supportive of new research and development ideas, Thought Technology Ltd. has encouraged a number of special interest groups and clinicians to create cutting edge applications for its instrumentation. Thought Technology Ltd. equipment is now being used in telemedicine, web-based monitoring and biofeedback, sports training, research in human-machine interface, physiology-driven multimedia environments and virtual reality. Constantly striving to improve the quality of the products and services, TTL has obtained, and maintains, ISO 13485, and CE certification for the organization and products.