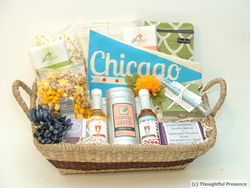 I knew this wasn't just a one-time deal, but that this could be the start of something really unique for other corporate and special event gift baskets.
Niles, IL (PRWEB) October 01, 2014
For a recent special project, Thoughtful Presence was tasked with designing a high end gift basket containing only gift items from local women owned businesses. Owner Mary Babiez, who makes it a regular practice to seek out one-of-a-kind products, was happy to take on the challenge. "I am always looking for products that will make our gift baskets unique, and this was right up my alley." The design was to include some non-perishable foods and other interesting items to represent women owned businesses in Chicago and nearby states.
The first place Babiez looked was on her current product list, and although there were local artists represented, they were not specifically women owned businesses. After several days of research, she began to find not just women owned businesses, but passionate artisans of food and gifts right in her own backyard. "As I reached out to these women entrepreneurs from Illinois and Wisconsin, it was a very different feel than some of the larger companies I've done business with. They had interesting stories, a passion for their product, and a willingness to be a part of this unique gift basket project. I knew this wasn't just a one-time deal, but that this could be the start of something really unique for other corporate and special event gift baskets," Babiez relates.
A wide variety of items are included in this new collection including some of Chicago's finest artisan chocolate, popcorn, and teas. Beverage syrups from Jo Snow Syrups add an elegant and spirited touch as well as a variety of gifts including handcrafted pens, linens, and mobile device holders. A refreshing collection of handcrafted candles and soaps is also available. Customers are able to choose their own mix of products from the collection to suit their budget, style and specific occasion.
The products can be used in any combination for corporate client gifts at Christmas, Chicago styled concierge gifts, or attendee and sponsor gifts for special events. Babiez has plans for continued promotion of these popular products and hopes to add more local products to the mix. "We love the versatility and combinability of these new products with other products that we currently stock. 30% of our business is custom design, so mixing and matching to a customer's request is what we do best."
The new Chicago Artisan and Gourmet Collection can be found on the Thoughtful Presence website. Those who wish to customize a gift or have additional questions can call 847-967-7055 or 855-244-GIFT (4438).
Thoughtful Presence is a custom gift basket company specializing in uniquely designed high quality functional gift baskets. "We combine boutique style gift products with the artistry of gift basket design. The result is a beautiful alternative to the traditional gourmet food gift basket." Custom gift baskets for a variety of holidays, themes, and life occasions can be found at Thoughtful Presence.