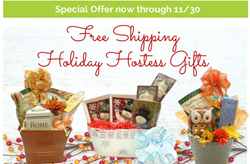 Our custom designs can include any products on our website, specially requested items, and even fresh baked goods from our local bakery
Niles, IL (PRWEB) November 19, 2014
The season of thanks is here, and Thoughtful Presence is making it easier to show gratitude with free shipping on fall and winter holiday hostess gifts. The Chicago based gift basket company, known for unique handmade gifts and gift baskets, has put together a collection of hostess gifts uniquely designed to take their customers right through Thanksgiving, Christmas and New Year's.
"This is our favorite time of year, we're well stocked for our customers' holiday parties, and we're throwing a few special celebrations of our own," hints owner, Mary Babiez, about more special offers to come in the weeks ahead. To kick off the holiday season, all hostess gifts are available for free shipping now through November 30. Gift basket designs are available with autumn, Thanksgiving, winter and Christmas themes.
In addition to the gifts available on their website, Thoughtful Presence is well known for their custom gift basket designs. Customers can choose from any number of gift products, and mix and match to create their own unique design. The free shipping offer is also available on custom gifts if designed as a holiday hostess gift. "Our custom designs can include any products on our website, specially requested items, and even fresh baked goods from our local bakery," explains Babiez. "Since all of our gift baskets are made by hand, we can easily substitute or mix and match items from our various collections.
Custom orders can take several days if specialty items are requested, so customers should allow enough time when placing their order. Most gift baskets are available for shipping same day. All holiday hostess gifts can be found at the Thoughtful Presence website. Those who wish to customize a gift should call 847-967-7055 or 855-244-GIFT (4438).
Thoughtful Presence is a custom gift basket company specializing in uniquely designed high quality functional gift baskets. "We combine boutique style gift products with the artistry of gift basket design. The result is a beautiful alternative to the traditional gourmet food gift basket." Custom gift baskets for a variety of holidays, themes, and life occasions can be found at Thoughtful Presence.