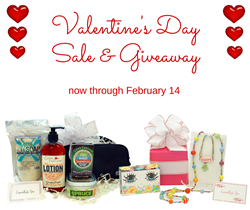 We believe we have the right variety of gifts for all of those important relationships.
Niles, IL (PRWEB) January 22, 2015
Chicago based gift basket company, Thoughtful Presence, is ready to help you with your Valentine's Day gift needs with their latest sale and giveaway. The sale, which runs now through February 14, provides 15% off all gifts and gift baskets in the Valentine's Day category on the Thoughtful Presence website. Running concurrently with the sale is the Be Our Valentine Giveaway, which offers a chance to win a special Valentine gift collection complete with boldly colored Valentine gift bag.
"Valentine's Day should be about celebrating all the special relationships in your life, whether they're romantic, platonic or family relationships. We believe we have the right variety of gifts for all of those important relationships," says owner Mary Babiez. Thoughtful Presence Valentine gifts include everything from chocolate to jewelry to men's shave sets, and each can be designed in a romantic or not-so-romantic style.
Along with a variety of unique gift baskets, Thoughtful Presence offers individual gifts hand wrapped with the same personal touch as the gift baskets. "In addition to our Valentine gift baskets, we've designed some gift sets that might include jewelry, a candle, all natural soap or lotion. These smaller gift sets include complimentary gift wrap, card, and our signature handmade bows. For the men, we'll skip the bow and simply add a masculine ribbon or tie," offers Babiez.
In conjunction with their heartwarming Valentine's Day sale, the company has kicked off a Be Our Valentine Gift Set Giveaway. The giveaway, hosted on Thoughtful Presence Facebook page, runs now through February 9. The prize is a unique book and fragrance collection in celebration of love and friendship. "We invite everyone to join the fun by following us on Facebook, Twitter, and Pinterest as well as our blog and email. There are several ways to enter and increase your chances to win. This is a great opportunity for us to welcome new friends and thank our existing customers for their business," says Babiez.
To view the Valentine's Day gift collection, visit Thoughtful Presence. The Valentine's Day Sale runs through February 14 and the Giveaway runs through February 9.
Thoughtful Presence is a custom gift basket company specializing in uniquely designed high quality functional gift baskets. "We combine boutique style gift products with the artistry of gift basket design. The result is a beautiful alternative to the traditional gourmet food gift basket." Custom gift baskets for a variety of holidays, themes, and life occasions can be found at Thoughtful Presence.