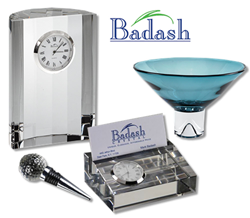 We wanted to offer corporate buyers a very customized experience.The sky's the limit, really.
Niles, IL (PRWEB) June 26, 2014
Whether looking for a new baby gift basket for a top client, a retirement gift for a co-worker, or 40 art glass penguins boxed and artistically wrapped for a special event, Thoughtful Presence has a corporate gift solution. "One-of-a-kind gifts with a personal touch are what it takes to impress," believes owner and gift basket designer Mary Babiez. "Our gift baskets have always been designed to be unique and filled with gifts not found at local big box stores. We're very selective and often choose products that are handmade and have an artistic flair. All of our food products and spa products are handmade by small companies in the USA." Whether purchasing from a local artist or a world renowned company, suppliers are carefully selected for their quality, value, and long standing reputation.
The new corporate product line is a mix of select gift baskets customized for corporate gift giving and new individual gift products now available on their newly design Corporate Gifts page. The individual gift product line includes artisan chocolates, caramels and popcorn available as an add-on to a custom gift basket or in its own decorative packaging. For these decadent treats, Thoughtful Presence has partnered with long-time family owned businesses, Abdallah Candies and Annies B's, both based in Minnesota. Other unique gifts include Badash Crystal giftware, elegant stationery and gift accessories from Mudlark, and a variety of useful gifts for home or office.
For the next several months all individual corporate products will be special ordered with volume pricing available by phone. "When we thought about how we wanted to present our corporate product line, we didn't want to simply add a bunch of gift baskets to a page and call it corporate. We wanted to offer corporate buyers a very customized experience," says Babiez. The website indicates product categories available with sample designs, but all orders will be finalized over the phone. For Thoughtful Presence this is an important aspect of their customer service - to understand exactly what the customer wants to convey and make recommendations accordingly. The gifts are then hand packaged or hand wrapped with gift card and appropriate color and style. Promotional items can be supplied by the company and added to the final gift design if desired.
"The corporate product line will continue to develop as we understand more of what our customers are looking for. The sky's the limit, really. We have access to many suppliers, and often obtain specific items at customer request." With fall and winter holiday products already being delivered, Babiez urges corporations to consider early orders. "Give us a call, let us do your footwork, and check that fourth quarter task off your list!"
All gifts and gift baskets can be found at the Thoughtful Presence website. Those who wish to customize a gift or have additional questions can call 847-967-7055 or 855-244-GIFT (4438).
Thoughtful Presence is a custom gift basket company specializing in uniquely designed high quality functional gift baskets. "We combine boutique style gift products with the artistry of gift basket design. The result is a beautiful alternative to the traditional gourmet food gift basket." Custom gift baskets for a variety of holidays, themes, and life occasions can be found at Thoughtful Presence.