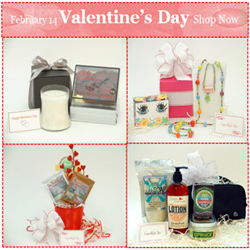 This is a great way to help raise money for the AHA as well as raise awareness of the risks of heart disease.
Niles, IL (PRWEB) February 03, 2015
Thoughtful Presence, a unique gift basket company based in Chicago, IL, has kicked off its third annual campaign to support the American Heart Association. For the month of February, 10% of sales will be donated to raise awareness and assist in the fight against heart disease.
Heart disease is the number one killer of women. Inspired by the annual event, Wear Red Day, Thoughtful Presence Owner, Mary Babiez, was initially drawn to support the effort by a Macy's ad. "That was 3 years ago, my business was small and new, and I thought it was a great opportunity for us to give back." With February being the second biggest gift giving month of the year, Babiez felt it made sense to make this an annual event. "This is a great way to help raise money for the AHA as well as raise awareness of the risks of heart disease. The AHA has a wealth of information and resources on heart health, and we feel it's important to share that."
Thoughtful Presence will donate 10% of all February sales to the American Heart Association. The company also plans to use Thoughtful Presence Facebook page and Blog to share daily posts on healthy habits, recipes, exercise and more.
"Whether it's Valentine's Day, birthdays, new babies, or retirements, February is a great time to shop for new gifts. We have a wide selection of gifts for men, women, babies and kids. Perfect for Valentine's are our all natural spa gifts, designed for men or women. Our Baby Gift Baskets, Housewarming Gifts as well as garden and travel themed gift baskets are very popular."
Thoughtful Presence is a custom gift basket company specializing in uniquely designed high quality functional gift baskets. "We combine boutique style gift products with the artistry of gift basket design. The result is a beautiful alternative to the traditional gourmet food gift basket."
Learn more about heart disease at goredforwomen.org. Join in the Thoughtful Presence healthy hearts campaign by purchasing a gift or signing up for their newsletter at http://www.thoughtfulpresence.com.