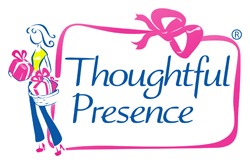 We interact with our customers in a very individual manner, much like a personal shopper.
Niles, IL (PRWEB) March 20, 2014
Chicago based custom gift basket company, Thoughtful Presence, is honored to receive the Better Business Bureau's annual complaint free award. The annual award is given to BBB accredited businesses that have received zero complaints and demonstrate superior performance in ethical business practice and customer satisfaction.
Owner Mary Babiez says product quality and customer service are at the core of her company's mission. "We treat every customer's gift purchase as if it was our own. Gift products are thoughtfully chosen and gift basket designs are made with each specific recipient in mind. We interact with our customers in a very individual manner, much like a personal shopper. Establishing customer confidence in our product and our service is critical to our business." Photos are often sent to customers when sending a gift basket to a third party. "Many of our customers choose unique gift baskets to send to someone who lives out of town. We feel it's important for them to see the finished product just as the recipient will see it." Babiez believes this level of personalized service is what sets her company apart.
All businesses that are Accredited by the BBB must be committed to the BBB Code of Business Practices. The Code is a comprehensive set of policies, procedures and best practices on how businesses treat consumers. These standards call for building trust, embodying integrity, advertising honestly and being truthful. President & CEO of the BBB serving Chicago and Northern Illinois, Steve Bernas, states, "To maintain their Accreditation a business must be transparent, honor their promises, be responsive to their customers, and safeguard their privacy."
Thoughtful Presence takes great pride in their BBB Accreditation and the annual complaint free honor. "The majority of our business is done online or over the phone, and trust, responsiveness, and overall quality are of utmost importance. Whether we are designing a baby gift basket, a housewarming gift, or any of our unique gift basket designs, we create the gift as if it was our own."
Thoughtful Presence is a custom gift basket company specializing in uniquely designed high quality functional gift baskets. "We combine boutique style gift products with the artistry of gift basket design. The result is a beautiful alternative to the traditional gourmet food gift basket." Custom gift baskets for a variety of holidays, special occasions and special themes can be found at Thoughtful Presence.