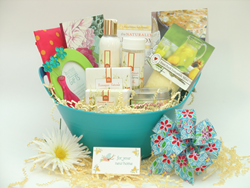 Our concept has always been to combine the artistry of gift basket design with functional and lasting gifts.
Niles, IL (PRWEB) April 10, 2014
Chicago-based Thoughtful Presence is known for unique and high quality products in their gift baskets, and keeping true to that concept they now offer a unique line of boutique style gifts for home and garden. Unlike most gift basket companies, Thoughtful Presence creates custom gift baskets with functional and decorative gifts, and not necessarily food items. "Our concept has always been to combine the artistry of gift basket design with functional and lasting gifts. We approach each basket request much like if you went out and selected a handful of meaningful gifts and wrapped them all in a gift bag. We do the work for you and create an artistic presentation in a basket or container," explains owner Mary Babiez.
The new collection includes unique gifts and gift baskets in the categories of housewarming, wedding, and bereavement as well as themed gifts such as BBQ and garden. Similar to gifts found in local gift boutiques, Thoughtful Presence chooses gift items that are trendy, unique in design, and high quality. Owner Babiez believes small gift sets and individual gift items as a complement to gift baskets are a natural evolution for her store. "It has always been my vision to offer our customers more options for their gift giving. Our gift baskets are so uniquely designed that they can easily be customized to the point of a customer simply desiring a single gift item, and we have always wanted to give them that option."
Some new products to highlight are the unique New Home Spa Gift Basket, designed for the female homeowner; New Home Toolkit; Wedding Wishes, a unique wedding gift collection in an elegant keepsake box, Cheers Wedding Gift Set, including silver and gemstone picture frame with pair of champagne glasses; the Garden Seat and Metro Garden basket, various sized BBQ collections, and a new set of unique inspirational gift books from Tristan Publishing.
"Our New Home Gift Basket, Gardener's Essentials, and Garden Seat were very popular, even in the winter season, so we thought the upcoming spring/summer season is a great time to add to those collections. We discovered the inspirational gift books and found them to be a unique addition to our existing baby, wedding and sympathy categories as well."
As an added personal touch, a complimentary digital photo is sent to all customers who have a gift sent directly to the recipient. "We want our customers to know the gift they purchased is exactly as they saw it on the website." Individual gifts and small gift sets not packaged in a container receive complimentary gift wrap.
To view the new gift designs and all gift baskets, visit Thoughtful Presence.
Thoughtful Presence is a custom gift basket company specializing in uniquely designed high quality functional gift baskets. "We combine boutique style gift products with the artistry of gift basket design. The result is a beautiful alternative to the traditional gourmet food gift basket." Custom gift baskets for a variety of holidays, themes, and life occasions can be found at Thoughtful Presence.