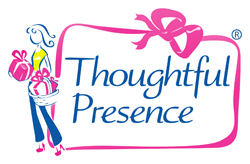 We emphasize the high quality of the products we select, but our customers will equally attest to our level of service.
Niles, IL (PRWEB) August 29, 2014
While it may seem a bit early to be selecting holiday gifts, Thoughtful Presence starts planning early to ensure optimum gift selection and delivery time. "We usually come out of the summer gift trade shows with lots of new ideas that we're ready to develop in time for the fall and winter holiday season," says Owner Mary Babiez. In the coming weeks Thoughtful Presence plans to add new gifts for kids, Chicago themed gift baskets and specialty gift baskets featuring artisan food and gift products from local artists.
"We've discovered some great talent in both food and non-food artisan categories, and these will be products not found in any other gift baskets," Babiez promises of their new unique gift basket designs.
Thoughtful Presence currently offers a large variety of gift baskets that are hand designed and created in their studio in Niles, IL, just outside of Chicago. All Thoughtful Presence gift baskets are made to order, with about 30% of their sales coming from custom design requests. Often these custom designs spark new ideas for new designs that become standard on their website. Babiez believes the custom designs are the most interesting and can be the most challenging, but they are also the most rewarding. "The customer service that we provide is how we differentiate our company. We emphasize the high quality of the products we select, but our customers will equally attest to our level of service. We communicate frequently with our customers during the design and delivery process, and we send photos of the completed design." Most gifts are sent directly to the recipient and Babiez wants the purchaser to feel confident that the gift sent was what they expected. According to Babiez, "Most often the gifts sent exceed their expectations. That is my ultimate goal."
The new specialty gift baskets will be available on the Thoughtful Presence website by September 15th, and special orders are always welcome. Those who wish to customize a gift or have additional questions can call 847-967-7055 or 855-244-GIFT (4438).
Thoughtful Presence is a custom gift basket company specializing in uniquely designed high quality functional gift baskets. "We combine boutique style gift products with the artistry of gift basket design. The result is a beautiful alternative to the traditional gourmet food gift basket." Custom gift baskets for a variety of holidays, themes, and life occasions can be found at Thoughtful Presence.