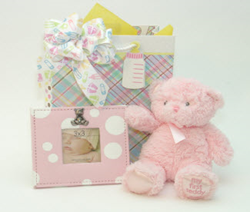 Offering the discount this month lets everyone take advantage of quality product at an affordable price.
Niles, IL (PRWEB) September 10, 2014
Chicago based gift basket company, Thoughtful Presence, is celebrating Baby Safety Month with 20% off all baby gift baskets and a special baby gift set giveaway. With baby gift baskets that include everything from certified baby safe toys to 100% organic bath products, Thoughtful Presence is happy to offer special savings on their wide variety of baby gift baskets to encourage the use of baby safe products.
"Baby safety is not just about preventing accidents; it's also about providing products that are best for your baby's health. We've partnered with companies such as Breganwood Organics, Green Envee Organics, and Mary Meyer whose products are all intended to encourage strong healthy growth in babies," explains owner Mary Babiez. "We recognize this makes some of our gift baskets a bit higher in price. Offering the discount this month lets everyone take advantage of quality product at an affordable price."
Thoughtful Presence offers a wide range of baby gift basket sizes and themes, ranging in price from 39.95 to 174.95. "Our most popular baby gifts are a polka dot theme basket, an owl themed baby gift basket and baby bath gift baskets, which contain all natural or 100% organic bath products," promises Babiez. Other themes in the Thoughtful Presence collection include jungle animal themes and custom gift basket options for twins.
To help spread the word about the sale and the importance of baby safe products, Thoughtful Presence has just launched a special giveaway for a Baby Girl Gift Set. The giveaway, hosted on Thoughtful Presence Facebook page, runs through September 29. Babiez encourages everyone to visit the contest and take a chance. "There are a handful of ways to submit your entry and increase your chances of winning the Baby Gift Set. We invite everyone to join and learn more about our unique baby gift products."
The Thoughtful Presence Baby Gift Basket Collection and sale can be found on their website and on Facebook. The sale runs through September 30.
Thoughtful Presence is a custom gift basket company specializing in uniquely designed high quality functional gift baskets. "We combine boutique style gift products with the artistry of gift basket design. The result is a beautiful alternative to the traditional gourmet food gift basket." Custom gift baskets for a variety of holidays, themes, and life occasions can be found at Thoughtful Presence.