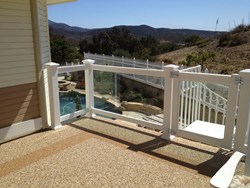 Thousand Oaks, CA (PRWEB) August 26, 2013
Dave Lane Construction recently repaired and renovated a second story residential deck for homeowners in Newbury Park. The former deck had tile flooring and the perimeter was bordered by a wood frame and wood handrails.
Rotting wood was undermining the integrity of the deck. The deck floor was the source of a water leak in the garage. "Dry rot was in the floor and the base of the old hand rails rendering the structure weak, it desperately needed replaced," says Dave Lane, owner of Dave Lane Construction. The crew repaired the leak, flashing and fascia.
Old hand rail posts and the wood structure were removed. "We ripped up two layers of tile from the deck floor that were originally installed incorrectly," says Dave. Sill pan flashing was installed under two sets of sliding vinyl door units to properly collect and drain water. The entire deck was then waterproofed.
After water and draining issues were resolved Dave Lane Construction went to work installing a high quality, new pebble stone floor featuring an interior border inlay. Metal posts were attached ready for the new handrails. White, vinyl handrails were installed complete with 3/8" clear tempered safety glass panels. "Vinyl handrails are growing increasingly popular because of they are maintenance-free and durable," says Dave. Glass panels leave the homeowners with an unobstructed outdoor view. A glass entrance gate was also added to the deck.
For more information on this company please call, (805) 493-9229, or check out, http://www.davelaneconstruction.com .
About Dave Lane Construction
Dave Lane Construction has been serving the Southern California area for over 30 years. They have been a member of the Better Business Bureau since 1997 with an A+ rating. Dave Lane Construction specializes in custom home designs and provides guaranteed satisfaction. They are proud to offer customers all the services needed to keep and improve the beauty and value of their home. Some areas of expertise include; custom home building, kitchen and bathroom