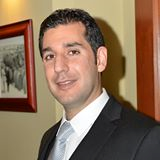 Thousand Oaks, CA (PRWEB) June 30, 2014
Thousand Oaks teeth whitening dentist Dr. Sharon Shamoiel is now offering complimentary teeth whitening to his patients. Teeth whitening is a fast, effective cosmetic treatment that can dramatically change the look of a smile. Dr. Sharon Shamoiel can provide patients with personalized information about their whitening options and offer alternative treatments when appropriate.
About Sharon Shamoiel DDS, Cosmetic Dentist Thousand Oaks
Dr. Sharon Shamoiel, Thousand Oaks Invisalign provider, was raised in the San Fernando Valley and attended UCLA, from which he graduated with a BS in Biology. He continued his education at Boston University's dental school and finished his residency at St. Barnabas Hospital, during which time he was able to hone his skills in laser dentistry, cosmetic dentistry and other fields of dentistry. After completing his residency, Dr. Shamoiel began to practice in New York and completed additional courses in cosmetic dentistry, endodontics and dental surgery. Dr. Shamoiel, Thousand Oaks dental implants expert, established Sweet Tooth Dental Center with a goal of providing patients with the care they need in a warm, friendly environment.
This special is available to all PPO dental insurance patients. Dr. Shamoiel's patients will receive complimentary refill gels for life for their at-home whitening kits. This enables them to not only whiten their teeth but also keep them white. At-home whitening treatments are similar to OTC whitening kits in design but much more effective. Not only do professional-strength teeth whitening treatments use prescription formulas for faster, more dramatic whitening, but they also use custom-fit mouth trays for precise results with a reduced risk of gum irritation and enamel damage.
Other treatments are also available. Thousand Oaks dentist Dr. Sharon Shamoiel offers comprehensive treatments at his dental office. He works closely with his patients to provide them with the treatment plans they need to reach their personal smile goals and improve their dental health. Many different options are available, including root canal therapy, dental fillings, porcelain crowns, preventative dentistry, bridges, dental implants, orthodontics and smile makeovers. Dr. Shamoiel accepts most forms of dental insurance and provides a variety of payment options for greater convenience. He welcomes patients of all ages, including pediatric patients, and provides a warm, friendly office environment that caters especially to anxious or nervous patients.