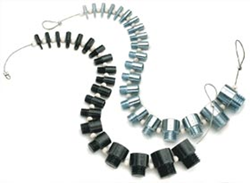 You'll quickly find the Thread Checker become as important as the hammer, screwdriver, or wrench in your toolbox.
Mukwonago, WI (PRWEB) May 14, 2014
With Father's Day just around the corner, ThreadToolSupply.com is offering free domestic shipping on their popular line of Nut and Bolt Thread Checkers through June 15th. The perfect gift idea for the Dad that enjoys working with his hands, these ever-useful tools will quickly identify and organize those jars of random nuts, bolts and screws in the garage or workshop. Determining both thread pitch and diameter in one easy step is now accomplished with the Thread Checker.
A growing favorite among DIY'ers, Handymen, and Auto Enthusiasts, the Thread Checker has quickly become the new standard in fastener identification. "Nearly everything in our lives is held together by fasteners, being able to identify them for repair or replacement is a necessity. You'll quickly find the Thread Checker become as important as the hammer, screwdriver, or wrench in your toolbox," said John Winkler, founder and president of ThreadToolSupply.com.
Proudly made in the USA, the individual 12L14 steel thread gauges are designed to withstand years of checking thread sizes. To assist in quick and accurate identification, thread sizes are permanently stamped onto each gauge. Additionally, the inch gauges have been clear zinc plated and the metric black oxide coated to easily distinguish between the two thread types. The Thread Checker is available in both wall mounted and portable versions.
The Wall Mounted Thread Checker will quickly identify the most common size nuts and bolts in one 3" x 39" display. There are 28 male threaded studs and 28 female threaded hubs to identify inch and metric threaded fasteners. Inch sizes range from 6-32 to 9/16-18 and Metric sizes from M4 x .7 to M12 x 1.75. The board also features screw diameter and bolt length checkers. Mounted on heavy-duty Sintra board and pre-drilled for easy installation, set up is complete and ready for use within minutes.
The portable Thread Checkers are assembled onto a wire cable with loop for convenient hanging on a shop wall or easy storing in a toolbox. The individual gauges rotate freely on the wire cable for fast thread verification. Each gauge features a male threaded stud on one end to identify nut sizes and a female threaded hub on the other to identify bolt sizes.
The portable Thread Checker is available in three different models. A Standard or Inch version which identifies fine and coarse thread sizes ranging in diameter from #6 to 1"; a Metric version which identifies fine and coarse thread sizes from 3 mm to 24 mm; and also a Combination Inch & Metric version that identifies inch sizes from #6 to ½" and metric sizes from 4 mm to 12 mm.
The Nut & Bolt Thread Checkers are available online at http://www.threadtoolsupply.com/thread-checker.html. All orders placed between 5/14/14 and 6/15/14 ship free anywhere in the US. Orders generally ship within one business day.
About ThreadToolSupply.com
ThreadToolSupply.com is a leading supplier of innovative fastener identification, conversion and repair tools headquartered in Mukwonago, Wisconsin. Products include an extensive selection of nut, bolt, and screw thread gauges, thread adapters, reducers, and enlargers, helical and key locking thread inserts, split die thread chasers, tap extensions, extraction tools, and related fittings. For more information, please visit http://www.threadtoolsupply.com.