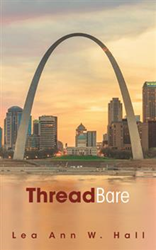 ThreadBare' is a hybrid of murder-mystery and romance, not fitting neatly into one category or the other
HENDERSONVILLE, Tenn. (PRWEB) February 22, 2017
Lea Ann W. Hall debuts in the literary world with a tale crafted with the influence of the daily happenings in the world today. Packaged as a ball of mystery, readers are encouraged to look for that "ThreadBare" (published by LifeRich Publishing) clue to unravel the truth on a web of deceit.
"ThreadBare" is about caring, everyday people and their long, convoluted path to discovering the truth. It is a murder-mystery and an unlikely romance, with several vividly unforgettable personalities. Clues, suspense and confusion, entwined with Snoopy ties, enclose a St. Louis, Missouri attorney, Phil Vincent, in mystery and intrigue. "Nearing the end of the 20th century, St. Louis is a nice place to live – most of the time."
Threadbare is gripping and compelling. It leads the reader on a journey to find out the truth of who killed whom and why. Hall, through this story, allows readers to have more awareness of the topic the novel deals with, to understand how prevalent it is, and to consider preparing themselves for how they personally would react if confronted with such a situation.
"ThreadBare' is a hybrid of murder-mystery and romance, not fitting neatly into one category or the other," Hall on what makes her book different. "The people in this novel are described in more detail as to appearance and personality than many modern authors care to employ. The story takes place in and around the St. Louis area and deals with everyday people who live there – no superhumans, no historical heroes, no spies."
"ThreadBare"
By Lea Ann W. Hall
Softcover | 5 x 8in | 202 pages | ISBN 9781489710314
E-Book | 202 pages | ISBN 9781489710307
Available at Amazon and Barnes & Noble
About the Author
Lea Ann W. Hall taught middle school/junior high students English and social studies for 16 years, primarily in Kirkwood, Missouri. She then worked 16 more years as the sales tax contact for a large telephone company. Now retired, the author lives with her husband, Homer L. Hall, in Hendersonville (northeast suburb of Nashville). They have two married daughters, Lynlea Keightley and Ashley Dill; two sons-in-law; and five grandchildren.
LifeRich Publishing, the strategic publishing partnership of Reader's Digest and Author Solutions, LLC, was created to provide all writers a platform for sharing their stories, recipes, advice and more. LifeRich authors will benefit from a wealth of editorial design, marketing and education resources, specially created by Reader's Digest editors for the enrichment of these LifeSmart individuals. Books can be published in print, ebook or audio formats, with additional distribution to up to 25 million Reader's Digest customers through its online properties. Follow @LifeRichPub on Twitter or "Like" us at facebook.com/LifeRichPublishing for the latest updates.