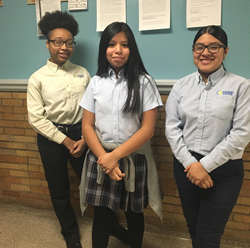 I want to finish high school and get into a good college. A chance to become a nurse or teacher. Not everything that you hear about Mexican immigrants is true."
FAIRFIELD, Conn. (PRWEB) February 01, 2019
Three eighth-grade students of the St. Augustine campus of the Catholic Academy of Bridgeport were announced as winners of Fairfield University's annual Martin Luther King Jr., essay contest. Awards were presented at FFU's 2019 Martin Luther King, Jr. Convocation on January 30, 2019. Mariela Aca won second place, while Sierra Dufane and Brendy Xochicale both earned honorable mentions.
The contest, co-sponsored by the Connecticut Post, invited Bridgeport students in Grades 6 through 8 to answer the question, "As we embrace the dream of Dr. Martin Luther King, Jr., how would you act to address and eliminate a problem caused by racism, injustice and/or inequality within your own community?"
Aca's winning essay explains that change begins with one's own actions. "I can abstain from making jokes about stereotypes. When I hear others teasing or bullying someone based on their race, nationality or skin color, I can stick up for them."
Aca goes on to encourage others not to make harsh judgments based on a person's heritage. "I am a Mexican immigrant. I am here legally. I am not a drug dealer, a rapist, a lazy bum or a criminal. I am just a 13-year-old girl with hopes and dreams. I go to school and study hard. I want to get a good education. I want a chance like everyone else. I want to finish high school and get into a good college. A chance to become a nurse or teacher. Not everything that you hear about Mexican immigrants is true."
Aca was awarded $150 for her second-place win and will be recognized in the Connecticut Post. In addition to the Convocation, all three students were invited to attend the Dr. Martin Luther King, Jr., Youth Leadership Academy on February 1st at FFU's Barone Campus Center.
The Catholic Academy of Bridgeport has four campuses in the city of Bridgeport: St. Andrew, St. Ann, St. Augustine and St. Raphael. The comprehensive academic curriculum and nurturing environment strives to help students in Pre-K through 8th grade reach their fullest potential. The Academy educates 900 children of diverse faiths and ethnicities, and educates the whole child: body, mind and spirit. Financial aid and scholarships are available to those who quality. For more information, call 203-362-2978.