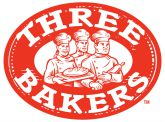 The redesigned website has a new look and improved functionality to ensure an easier and more engaging experience for users
Moscow, PA (PRWEB) August 31, 2015
Three Bakers Gluten Free Bakery launched the redesign of its website, http://www.threebakers.com, to provide visitors and retailers with even more relevant and easy-to-find information on their offering of gluten-free breads and pizzas, living without gluten, and resources for celiac disease.
"Our website has always been an important way for us to share information about our gluten free product offerings, but also to really be a hub for those seeking resources in the gluten-free community," said Lyle Hubbard, CEO of Gluten Free Food Group. "The redesigned website has a new look and improved functionality to ensure an easier and more engaging experience for users."
The revamped site features an updated look with enhanced features, including easier navigation, updated community resources, improved mobile functionality, social media sharing options and a retail request page.
The new website also includes:

Where to Buy, a store locator feature;
Improved overall usability (including mobile compatibility);
Numerous resources for visitors looking for information related to gluten-free living and celiac disease;
A downloadable coupon for visitors to enjoy $1.00 off a purchase.
Visit http://threebakers.com to experience the redesigned website
About Three Bakers
Three Bakers was born out of a passion driven by a personal experience with celiac disease, a traditional family bakery and the need to intersect two worlds. Three Bakers is a craft bakery founded in 2008 by Jane and Dan Trygar after Jane was diagnosed with celiac disease.
Three Bakers exclusively bakes gluten-free food including breads, pizzas, hamburger buns, hot dog buns and stuffing mix. Three Bakers' breads & pizzas are available nationally at grocery and natural food stores around the USA.