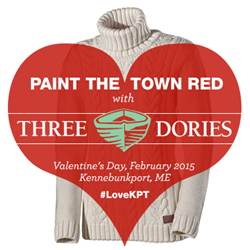 February is a great time to take a break, beat cabin fever, and go have a little fun!
Kennebunkport, Maine (PRWEB) January 30, 2015
Kennebunkport's business community is taking on the mid-winter blues and offering a heart-shaped holiday treat for travelers, beginning February 1 and running all month long. Retailers like Three Dories, local hotels and restaurants are offering shopping, dining and lodging deals and travel packages for the entire month of February to increase tourism to the southern Maine district.
"February is a great time to take a little break and go have some fun," says George Demambro, co-owner of Three Dories, an anchor apparel store in Dock Square featuring clothing and accessories designed to capture the high quality and character of leisure travel apparel. "This year, we're really pulling out the stops to help New Englanders, looking for weekend excursions, a way to beat their cabin fever."
Paint the Town Red officially kicks-off January 31, 2015 with a special lighting ceremony that includes an eight-foot heart made of glowing red Maine lobster traps. More features of the month-long festival:

Kennebunkport will urge travelers to take pictures and use the #lovekpt hashtag to help the town compete for "New England's Most Romantic Town";
Participating hotels, restaurants and shops will be adorned with red and white lights;
"Red Plate" specials and "red tag" shopping are just some of the offerings.
Three Dories will offer the classic red Hollbrook hat as a memorable purchase for the weekend, along with a variety of men's and women's sportswear at a full 50% off.
Three Dories offers a clothing line that is casual, yet sophisticated, geared towards men, women and children, and is multigenerational. The clothing can easily transition from the golf course, to the neighborhood cookout to a night out with friends and will feature timeless, classic designs versus once a season trends.
The Three Dories vision was to create a line that represents quintessential New England, yet was in synch with today's casual lifestyle. The brand will appeal to the weekend visitor who wants to remember the special time they enjoyed in this picturesque coastal town, and to the lifelong resident who is proud to be a part of the rich heritage of this seacoast. You can check out the store's offerings year round at http://www.threedories.com.
####