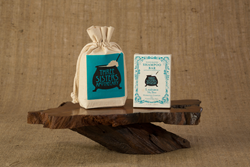 Three Sisters Apothecary Shampoo Bar is a hit with those who enjoy easy, natural hair care.
Santa Rosa, California (PRWEB) March 30, 2016
Sonoma County based Soap Cauldron™ (http://www.soapcauldron.com), in association with The Artisan Group®, will participate in an invitation-only luxury celebrity gift lounge hosted by GBK Productions in honor of the 2016 MTV Movie Awards nominees and presenters. The event will take place on April 8-9, 2016, at an exclusive location in Los Angeles, California.
Soap Cauldron will include its Three Sisters Apothecary Shampoo Bar in The Artisan Group's coveted celebrity swag bags. The company's entire hair care line, including its Moisturizing Complex for Curly and dWavy Hair Types, Volumizing Complex for Fine and Thin Hair Types and Sleek & Smooth Complex for Straight and Thick Hair Types, will be on display at the Artisan Group's exhibit.
Emma Mann, soap artisan and founder of Soap Cauldron, notes that the Three Sisters Apothecary Shampoo Bar is a true soap that cleans hair differently by gently cleansing and hydrating with a fluffy, super-rich lather.
According to Emma, most liquid shampoos contain synthetic detergents which strip hair of everything from the daily dirt buildup to natural health oils, leaving hair dull and lifeless. This can cause scalp dryness, resulting in flaking and a limp quality to the hair shaft. All Three Sisters Apothecary Shampoo Bars are free of synthetic ingredients and utilize key actives to support hair health, leaving it radiant and deeply hydrated. Usage is comparable to that of three 8 ounce shampoo bottles.
"Our shampoo bars have been a huge hit since we introduced them two years ago," said Emma. "They are naturally made and distinctive. Handcrafted in small batches, they appeal to shoppers who are concerned about product ingredients. Both men and women flock to this product and once they realize how easy and natural hair care can be, they return again and again. We're excited to introduce our shampoo bar to the MTV audience."
Soap Cauldron has launched a line of hair oils this spring, to coincide with the MTV Movie Awards gifting. Each conditioning oil will pair with the corresponding shampoo bar.
Soap Cauldron has been creating artisan soaps under the label Three Sisters Apothecary since 1999. Its handcrafted bar soaps are made in the time-honored tradition of the first soap guilds of 7th century Europe. Now, just as then, each bar is handmade in small batches with only natural botanicals, pure essential and gourmet butters and plant oils. From the early recipes coveted by these guilds, these beneficial ingredients nourish and support skin on daily basis. The company's products are sold online on its website and Etsy. Three Sisters Apothecary is also carried by nearly 70 boutiques and premium natural foods stores.
Three Sisters Apothecary is named after the three Yniguez sisters, Emma, Marlo and Pandora, of which Emma is the youngest. These girls are all two years apart in age, grew up together and spent many lazy Sunday afternoons harvesting herbs for their grandmother, a nurse. They learned early that nature can truly be therapeutic. After daughter Sabrina was born, Emma began making soap that would be not only natural but therapeutic to this preemie baby's skin. When Sabrina was three, she joined in the process of making soap for family and friends.
Soap Cauldron's French Lavender Soap has been mentioned as a "Best Buy" on Lucky.com. All Soap Cauldron products are certified cruelty free by Leaping Bunny and are produced to the highest quality standards while adhering to the concepts of sustainability and environmental consciousness.
Three Sisters Apothecary has gifted its products at GBK's Luxury Gift Lounges for the Primetime Emmys, the MTV Movie Awards and the Golden Globes. They have also participated in The Artisan Group's Earth Day collaborative gift bags, delivered to some of Hollywood's most eco-conscious celebrities, including Leonardo DiCaprio, Hayden Panettiere, Ginnifer Goodwin and others.
To learn more about Soap Cauldron, contact Emma Mann using the email button on the right. Become a fan of the company on Facebook, Twitter and Instagram (@soapcauldron) and follow it on Pinterest (@soapcauldro0061). Shop Soap Cauldron at soapcauldron.com, on Etsy and at boutiques and premium natural food stores.
For press inquiries regarding The Artisan Group, visit theartisangroup.org.
*Neither Soap Cauldron nor The Artisan Group are officially affiliated with MTV or the MTV Movie Awards.
ABOUT SOAP CAULDRON™
Soap Cauldron (http://www.soapcauldron.com) takes ingredients from nature and transforms them into nourishing and gentle bars to gently cleanse and pamper the skin. Soap Cauldron users will see and feel the difference when they experience its natural handmade soaps and invites customers to try either of their brands, Three Sisters Apothecary or Soapy Tails.
ABOUT THE ARTISAN GROUP
The Artisan Group® (http://www.theartisangroup.org) is a premier entertainment marketing group dedicated to representing small business artisans at the best celebrity gift lounges and press events. The organization provides a collective sampling of handcrafted products to celebrities and members of the press at top luxury gift lounges such as those leading up to The Academy Awards, The Golden Globes, The MTV Movie Awards and The Primetime Emmys.
The Artisan Group also coordinates product placement of its member's handcrafted products on such hit television shows as The Voice, The Vampire Diaries, Days of Our Lives, The Young & The Restless, Modern Family, Jane The Virgin and Law & Order: SVU, among others. Membership in The Artisan Group is juried and by invitation only.