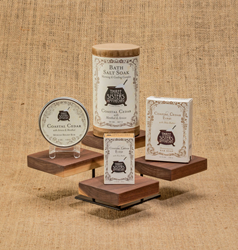 Our Coastal Cedar line has a warm balsamic and woody scent with key actives that support healthy oil balance on both face and body.
Sonoma County, California (PRWEB) December 29, 2016
Sonoma County-based Soap Cauldron™ (http://www.soapcauldron.com), in association with The Artisan Group®, will participate in GBK's invitation-only Luxury Celebrity Gift Lounge Honoring the Nominees and Presenters for the 2017 Golden Globes. The event will take place on January 6-7, 2017, at an exclusive location in Beverly Hills, California.
Soap Cauldron will include its handcrafted artisan Coastal Cedar Bar Soap in The Artisan Group's coveted celebrity swag bags. At the Artisan Group's exhibit, the company will showcase its entire Coastal Cedar line, including the bar soap in two sizes and the latest additions to the line—Coastal Cedar Muscle Rub and Bath Soak with Arnica and Menthol.
Emma Mann, soap artisan and founder of Soap Cauldron, notes that aromatic coastal cedar, a fixture of the Pacific Northwest landscape, was used by native cultures for its calming benefits and to relieve dryness and associated itching of the skin. "Our customers love our Coastal Cedar line," said Emma, "It has a warm balsamic and woody scent with key actives that support healthy oil balance on both face and body."
Soap Cauldron soaps are packaged in a sustainable inner box made with solar power on post-consumer recycled board and housed in an outer sleeve that protects each and every bar. The packaging slides open so prospective customers can see and smell the product without affecting the resale of the product. This creates a win-win for the customer and the company's retail partners. For this gifting, the bars have then been placed in a silk screen bag that is hand-decorated using a silk screen press.
Says Emma, "We're excited to present our products at GBK's gift lounge honoring the Golden Globes. We think visitors will appreciate our mix of old world herbalism and the art form of truly natural cold process soap making, as well as our environmentally thoughtful packaging."
Soap Cauldron has been creating handcrafted soaps under the label Three Sisters Apothecary since 1999. The company's bar soaps are made in the time-honored tradition of the first soap guilds of 7th century Europe. Now, just as then, each bar is handmade in small batches with only natural botanicals, pure essential oils and gourmet butters. From the early recipes coveted by these guilds, these beneficial ingredients nourish and support skin on a daily basis.
The company's products are sold online on its website and Etsy. Three Sisters Apothecary is also carried by nearly 70 boutiques and premium natural foods stores, including Whole Foods Markets in the Nor-Cal region, the entire Oliver's chain, Rainbow Grocery, Good Earth Natural Foods and many other fine small retailers.
Soap Cauldron's French Lavender Bar Soap has been mentioned as a "Best Buy" on Lucky.com. All Soap Cauldron products are certified cruelty free by Leaping Bunny and are produced to the highest quality standards while adhering to the concepts of sustainability and environmental consciousness.
Three Sisters Apothecary has gifted its products at GBK's Luxury Gift Lounges for the Primetime Emmys, the MTV Movie Awards and the Golden Globes. It has also participated in The Artisan Group's Earth Day collaborative gift bags, delivered to some of Hollywood's most eco-conscious celebrities, including Leonardo DiCaprio, Hayden Panettiere, Ginnifer Goodwin and others.
To learn more about Soap Cauldron, click here and contact Emma Mann using the email button on the right. Become a fan of the company on Facebook, Twitter and Instagram (@soapcauldron) and follow it on Pinterest (@soapcauldro0061).
*Neither Soap Cauldron, nor The Artisan Group are officially affiliated with the Golden Globes or The Hollywood Foreign Press Association.
About Soap Cauldron™
Soap Cauldron (http://www.soapcauldron.com) takes ingredients from nature and transforms them into nourishing and gentle bars to gently cleanse and pamper the skin. Soap Cauldron users will see and feel the difference when they experience its natural handmade soaps and invites customers to try either of their brands, Three Sisters Apothecary or Soapy Tails.
About The Artisan Group
The Artisan Group® (http://www.theartisangroup.org) is a premier entertainment marketing group dedicated to representing small business artisans at the best celebrity gift lounges and press events. The organization provides a collective sampling of handcrafted products to celebrities and members of the press at top luxury gift lounges such as those leading up to The Academy Awards, The Golden Globes, The MTV Movie Awards and The Primetime Emmys.
The Artisan Group also coordinates product placement of its member's handcrafted products on such hit television shows as Empire, Scandal, The Voice, How To Get Away With Murder, The Vampire Diaries, Days of Our Lives, The Young & The Restless, Modern Family, Jane The Virgin and Law & Order: SVU, among others. Membership in The Artisan Group is juried and by invitation only.
For press inquiries regarding The Artisan Group, please visit theartisangroup.org or email press[at]theartisangroup(dot)org.