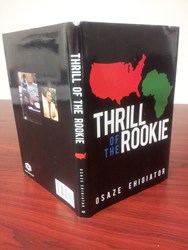 No matter what we know, everyone we meet knows something we have no clue about
Plano, TX (PRWEB) September 26, 2013
"Thrill of the Rookie" is making more headlines across the globe as per the author. He said this is a must read book that gives a step by step outline on reaching for the stars a few inches at a time in the midst of obstacles and serious challenges. The books also outlined a never dying desire and desperate hunger for success in spite of adversities. The Author-Osaze Ehigiator also says that those who will reap in due seasons must first sow at harvest time. He calls this one of the natural principles of good harvest.
He also states that there are natural laws that operate in the entire planet; be it the United States, Europe or in Africa: Adding that perseverance, good work ethics, and making use of any given opportunity will always pay good dividends. According to him: Sir Francis Bacon once said and he quotes: "A wise man will make more opportunities than he finds."
There are also numerous write-ups by other national news media as per the Author- Osaze Ehigiator.
John Taylor, a Reviewer at East Side Daily News, Cleveland, OH, writes: "A chance at a new life is sometimes taken in fear of anything and everything around them." "Thrill of the Rookie" is a memoir from Osaze Ehigiator who shares his story of coming from Nigeria with little to call his own and his struggle to survive and find his way to thrive through it all. "Thrill of the Rookie" is a powerful read of clawing for the American dream even when it all seems hopeless, and somehow making it real."
Wayne Shaw: Port Of Harlem Snippets, also calls the book: "A riveting account of triumph in spite of adversity wrapped in hope."
An excerpt from chapter 6: "REAL CULTURE SHOCK BEGINS"
"Do you have any fast-food restaurant experience?" he asked.
I told him I had worked in many fast food places in Greece, Mississippi;
even here in Dallas. He knew I was lying but did not confront me.
He was too high up to come down to my level.
Of course, I had to say what I had been told to say to have any chance of getting the job. I had been told that no one would hire me without some kind of experience.
The gentleman laughed and said, "No beard if you need this job."
"I will shave it," I said. "Then I will teach you how to make a good hamburger"
Facebook and Twitter: Osaze Ehigiator.
Books available online at yahoo page or Amazon..
http://www.OSAZEPAGE.COM. __title__ ]