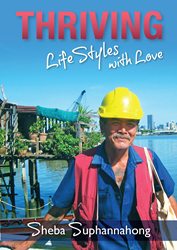 Suphannahong's new book reveals the beauty, harmony, hardship, and resilience that exists in the day-to-day lives of the people of Thailand.
Bangkok, Thailand (PRWEB) February 19, 2015
Like looking through a keyhole and discovering a new and wondrous world beyond, Sheba Suphannahong's new book 'Thriving – LifeStyles with Love!' reveals the beauty, harmony, hardship, and resilience that exists in the day-to-day lives of the people of Thailand. In a collection of short stories and colorful photographs, Suphannahong's photo essay-style book offers a glimpse into the lives of some special people whom she has encountered over the years in Thailand.
Through her photographs and conversational narrative, Suphannahong offers a unique journey through the daily lives of ordinary people with not-so-ordinary stories. She weaves together their personal details, significant historical facts, and compelling tales of struggle and perseverance. What stands out the most is the incredible and enduring spirit of these people. In addition to their drive to nurture their families and communities, they are equally driven to protect their culture, their arts, and their livelihoods. Somehow they've managed to adapt—and thrive—despite the constant creep of large corporations that threaten the integrity of their ecosystems and the environment.
The portraits that Suphannahong paint in her book include Thai people from many regions and all walks of life. She examines the lives of the hill tribes in the northern region of Chiang Rai, as well as the urban dwellers who make their living as food vendors and transportation providers. Artisans, professors, and an arborist (known as the Bangkok Tree Surgeon), among others, are also profiled in 'Thriving,' proving that the people of Thailand are a varied and interesting lot with a strong work ethic and a deep respect for the place they all call 'home.'
Whatever hardships they have endured, the people in Suphannahong's book have embraced their lives and their pasts, and have found a place within themselves where happiness is possible and where appreciation for the important things—family, love, hard work, and respect for the environment—is what matter most. "I wrote this book to honor the many wonderful people that fill my life every day," says Suphannahong. "These people must contend with the modern world to earn their living, but they have not let the desire for fortune or fame distort their values in life. I wanted to show that 'decency' is a subject that should not be forgotten in today's world and I hope that readers will see that one can have a good and happy life with less."
'Thriving – LifeStyles with Love!' is published in eBook format by eBookIt.com and is now available at popular online retailers including Amazon.com, Barnesandnoble.com and Apple's iBookstore.
Review copies of 'Thriving – LifeStyles with Love!' are available to media contacts upon request. Author Sheba Suphannahong is available for interviews.
CONTACT:
Sheba Suphannahong
Sheba.Suphannahong(at)gmail(dot)com
+66 (0) 86 007 1078
About Sheba Suphannahong
Sheba Suphannahong moved to Bangkok in 2006 to become involved in grassroots projects relating to environment and sustainable development. She has created her travel books as a way to share all of the wonderful things that she has discovered about this part of Southeast Asia, as well as to deliver her message about the importance of striving for a sustainable world. Suphannahong currently makes her home in a mangrove located in central Bangkok. For more information about her books, visit her website at http://www.indochinapeninsula.org.
About eBookIt.com
Since 2010, eBookIt.com (based in Sudbury, Massachusetts) has helped thousands of authors and publishers get their books converted to ebook format, and distributed to all the major ebook retailers, including Amazon.com, Barnesandnoble.com, Apple iBookstore, Kobo, Sony Readerstore, Ingram Digital, and Google eBookstore.
###