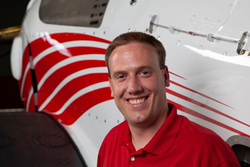 "The aerospace industry benefits greatly from the depth of manufacturing capabilities in Georgia," said Eric Rojek. "Capabilities that are not only vital to the success of our nation, but that allow us to continue building upon Georgia's rich legacy of success in aviation."
ATLANTA (PRWEB) August 03, 2018
Understanding the impact that the aerospace industry has on manufacturing will be a key topic at the 2018 Georgia Manufacturing Summit. Held October 10th at the Cobb Galleria, this year's breakfast Keynote Speaker will be Eric Rojek, Vice President of Sales and Marketing for Thrush Aircraft, one of the world's largest manufacturers of agricultural aircraft. Mr. Rojek leads Thrush's global marketing strategy, communications, and brand positioning efforts.
"The aerospace industry benefits greatly from the depth of manufacturing capabilities in Georgia," said Eric Rojek. "Capabilities that are not only vital to the success of our nation, but that allow us to continue building upon Georgia's rich legacy of success in aviation."
Headquartered in Albany, Georgia, Thrush Aircraft manufactures a full range of aerial application aircraft used in agriculture, forestry, and firefighting roles worldwide. Founded in 2003, Thrush is well-known for building the most durable aircraft in the aerial application industry, as well as the best flying – from both pilot and operator perspectives. Today there are more than 2,200 Thrush aircraft operating in some 80 countries.
This versatility is part of what has made Thrush a favorite of operators, both large and small. Major operators who rely on Thrush include such familiar names as Dole Fresh Fruit, Del Monte Fresh Fruit, Aerovic, FumiPalma, as well as many governments around the world.
"Thrush boasts a well-rounded management team with a wealth of experience in all areas of manufacturing," said Jason Moss, CEO of the Georgia Manufacturing Alliance the producer of the Summit. "Their veteran labor force has aerial agriculture experience dating back to the mid-1960s, including all aspects of design, tooling production, planning, product manufacturing, and support."
The 2018 Summit is expected to attract over 800 attendees from across the Southeast and will be focused on the Aerospace Industry. It is Georgia's manufacturing event of the year and allows attendees to make face-to-face connections with other manufacturers, customers, service providers, and suppliers. In addition to the Keynote presentations, this year's event will have over 30 of the top industry leaders provide educational workshops to discuss Disruptive Technologies, Financial Perspectives, International Manufacturing, Supply Chain Trends, and Workforce Development.
About the Georgia Manufacturing Alliance:
The Georgia Manufacturing Alliance (GMA) is a membership-based industry organization founded in 2008 to support Georgia's manufacturing community. GMA provides monthly plant tours, educational sessions, tradeshows, and unique networking opportunities designed to help make profitable business connections for its members. The Georgia Manufacturing Directory, Georgia Manufacturing Summit, Georgia Manufacturing Calendar, and BuyFromGeorgia.com are additional resources produced by GMA. To learn more about the organization, membership, and upcoming events, please call 770-338-0051 or visit their website http://www.GeorgiaManufacturingAlliance.com.