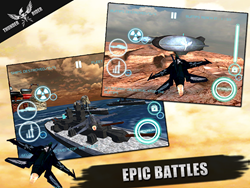 Mahe Zehra Husain, Co-Founder of Pepper.pk said, 'The 3D graphics are stellar and the landscapes vary from mountainous regions to ocean imagery. We have paid special attention to the user experience and look forward to hearing what players have to say.'
Lahore, Pakistan (PRWEB) August 10, 2013
FiveRivers Technologies, one of Pakistan's leading Software Houses, today announced the launch of Pepper.pk's free-to-play RPG fighter jet game Thunder Rider – First Flight on the App Store.
The game is based on the famous JF-17 Thunder fighter jet that has been developed in joint collaboration between China and Pakistan. Thunder Rider – First Flight takes the player on a Role Playing journey where they act as a crack JF-17 fighter pilot who is tasked with averting catastrophe. A rogue general is about to stage a coup and has plans on starting a conflagration based on false flag attacks. It is the player's job to stealthily stop the evil Gen. Viper in his tracks before he imperils the entire world.
Their promo video can be viewed on their website and gives the backstory to the game.
The game has been developed using the Unreal Development Kit which provides extreme flexibility and stellar performance on mobile devices bringing PC game quality and experience to your smartphones.
Thunder Rider has highly addictive and well planned game play. The player acting as the Lt. can choose from multiple camera angles and perform personalized modifications to their JF-17 Thunder. Everything from weapon upgrades to various jet skins help the players improve their chances of winning as well as keeping them engaged while completing stealth missions.
The JF- 17 Thunder is a fighter aircraft that has been developed by Pakistan and China in keeping with their decades long friendship. The JF-17 is not only a beautiful aircraft equipped with cutting edge technology but also serves as a reminder of the deep friendship that exists between the two neighboring nations.
The game can be downloaded for free from the App Store.
About Pepper.pk: Pepper.pk was established in 2009 and focuses on developing fun, easy-to-use and really useful tools for the world's favorite mobile devices. Their mobile applications range from productivity and communication tools to lifestyle applications and games. Pepper.pk has applications for all major platforms like Blackberry, iPhone, Android, Windows Mobile phones or J2ME devices. They've developed massively successful mobile apps and games, including THREE WORLD #1 titles and won awards globally with more than 150 apps and millions of downloads under their belt.
About FiveRivers : FiveRivers Technologies (Pvt.) Ltd. is an IT company, based in Lahore, Pakistan focused on providing outsourced technology services to a variety of international customers. With ISO:9001 certification and implementation of CMMI level 3 processes,
FiveRivers offers the best balance between process, quality standards and speed of execution for its clientele.
FRT specializes in Web 2.0 development, Mobile Applications, Systems Management, Location Based Systems and Enterprise Applications. FiveRivers is the ideal partner for projects that can benefit from low-cost implementation and tightly coupled project management.