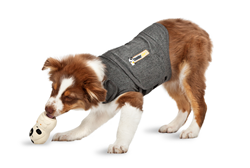 For the first time, pet owners are realizing that many of the underlying reasons for their pet's negative behaviors are in fact rooted in anxiety.
Orlando, FL (PRWEB) March 12, 2014
No other company in the pet industry is as committed to offering the most complete, innovative and all-natural line of pet anxiety and stress solutions. With extensive research, over an 80% success rate, thousands of positive customer testimonials, and countless endorsements from veterinarians, animal behaviorists and trainers nationwide, ThunderWorks is leading the way in this rapidly growing category.
It's well known that pets are suffering from stress and anxiety caused by fear of thunderstorms/severe weather, fireworks, separation and travel for example. However, for the first time pet owners are realizing that many of the underlying reasons for many of their pet's negative behaviors are in fact rooted in anxiety. Now, with one or the combination of a few ThunderWorks product solutions, pet owners are seeing impressive improvements and calmer pets who:

Bark excessively
Chew
Claw
Have indoor "accidents"
Seek tight spaces
And more…
Here's a summary of the company's current product offerings:
The ThunderShirt for Dogs and Cats
With its patented design, the ThunderShirt's gentle, constant pressure can dramatically reduce anxiety in 80 percent of dogs. Anxiety experts believe that pressure has a calming effect on the nervous system and releases calming endorphins or oxytocins. The ThunderShirt for Dogs is available in sizes XXS to XXL. Suggested retail is $39.95. The ThunderShirt for Cats is available in sizes S, M and L. Suggested retail is $39.95. Both products can be personalized with custom embroidery for an additional charge at http://www.ThunderWorks.com.
ThunderCoat and ThunderSweater
Launched at the end of 2013, the ThunderCoat and the ThunderSweater offer a unique clothing system that snaps onto the outside of the ThunderShirt providing added warmth and protection from rain and cold if needed. Both styles include a ThunderShirt that can be easily unsnapped and used without the ThunderCoat and ThunderSweater outerwear if desired.
ThunderLeash
The ThunderLeash is a simpler "no pull" solution for your dog. Finally, pet parents can enjoy a hassle-free walk with overexcited dogs without the need for complicated harnesses or head collars, making the experience more positive for everyone. Recommended and extensively tested by professional dog trainers, the ThunderLeash can be used as a standard leash (hooked onto a standard dog's collar), can be quickly and easily converted to a "no pull" harness configuration any time pulling becomes an issue. Pet parents will simply wrap the leash around their dog's torso and allow the safe pressure caused by their pulling to reduce their desire to pull. There's no standard harness required, making this patent-pending design very quick and easy to put on and take off the dog. The ThunderLeash is available in two sizes, small and large, and retails for $29.95.
ThunderToy and ThunderTreat
For a dog that simply needs a subtle distraction at home or in the car, the ThunderToy and ThunderTreat are a thoughtfully designed stuffable puzzle chew toy and calming treat combination that helps calm and distract stressed or anxious dogs. The ThunderTreat is made to fit inside the ThunderToy, and includes proven calming ingredients such as chamomile and lavender and is made in the USA. The ThunderToy is available in two sizes, small and large, and retails for $12.95 and $14.95. The ThunderTreat is available in 4oz. bags for $7.95, and 8oz. bags $9.95.
The ThunderSpray for Dogs and Cats
ThunderSpray calms and comforts pets by mimicking a mother's natural pheromones and is comprised of soothing fragrances of lavender and chamomile. ThunderSpray can be used in two ways: by spraying a single burst in the car where the pet will sit, or in conjunction with the ThunderShirt and sprayed on the neck of the ThunderShirt. The calming pheromones and fragrances continue to release for an extended period and the liquid will dry stain-free. ThunderSpray is available for both dogs and cats, and retails for $19.95.
ThunderCap
Sometimes, pets can become increasingly stressed by what they see when traveling, for example, other cars or animals outside. The ThunderCap filters a dog's vision in order to reduce the visual stimulation that is experienced during travel. ThunderCap is available in sizes XS-L and retails for $19.95.
For more information about ThunderWorks, these travel anxiety tips, or to request a product sample or interview with company founder, Phil Blizzard, please contact Kerry Sutherland at K. Sutherland PR, Kerry(at)ksutherlandpr(dot)com or (949) 328-4895.
About ThunderShirt and ThunderWorks
Founded in 2009 in Durham, N.C., ThunderShirt's mission is to bring relief to the millions of dogs, cats and their families struggling to cope with anxieties. The ThunderShirt is designed to apply a constant, gentle pressure to a dog or cat's torso creating a dramatic calming effect for most users. ThunderShirt continues to investigate anxiety and fear issues with scientific-based studies and surveys from recognized veterinarians and pet owners. ThunderShirt has already helped millions of dogs and cats across the country and around the world. The company also donates thousands of ThunderWorks products and funding to rescue groups and shelters to help these organizations manage their anxiety cases and find permanent homes.
In recognition of the company's expanding product line into more calming solutions, ThunderShirt has changed its corporate name to ThunderWorks. As always, the company is committed to developing calming pet products that are effective, simple to use and strengthen the bond between pet and pet parent. Together, let's be better humans to our pets. Products are sold at http://www.ThunderWorks.com and by retail stores, veterinarians, trainers and kennels across the country.
Online: thunderworks.com
Facebook: facebook.com/Thundershirt
Twitter: @Thundershirt
Instagram: @ThunderWorks
Pinterest: pinterest.com/Thundershirt