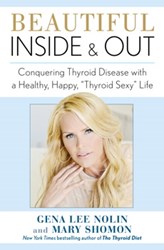 "Many doctors say that thyroid disease is easy to diagnose, and easy to treat. But as a patient advocate, I hear from thousands of thyroid patients every month, and I know that is frequently not the case." - Mary Shomon
(PRWEB) September 18, 2013
The stereotypical image of a thyroid patient is a middle-aged or menopausal woman, usually overweight. So when thyroid symptoms like fatigue, brain fog, fertility problems, and low sex drive strike an otherwise fit woman in her twenties or thirties, doctors -- and the women themselves -- often don't consider thyroid problems as the possible cause.
This was the case for Gena Lee Nolin, who started her career as a "Barker's Beauty" on "The Price is Right," and later went on to star on the international hit television program "Baywatch" for several seasons, and also starred in her own show, "Sheena." Nolin recently discovered that her two decades of mysterious symptoms -- including hair loss, exhaustion, weight gain, and even dangerous atrial fibrillation during her pregnancy with her daughter -- were actually the result of undiagnosed Hashimoto's disease and hypothyroidism.
Nolin has teamed up with New York Times best-selling author, and the nation's leading thyroid patient advocate, Mary Shomon, to share her story in a new book: Beautiful Inside and Out: Conquering Thyroid Disease with a Healthy, Happy, "Thyroid Sexy" Life, coming from Atria/Simon&Schuster on October 8, 2013.
A foreword to the book was written by Berkeley, California-based hormone expert and integrative physician, Sara Gottfried, MD, author of the recent bestseller "The Hormone Cure."
Part I of Beautiful Inside and Out shares the story of Gena's rise to fame in television and her shift to life as a wife and mother, a time when she was also privately struggling with symptoms that were written off to depression, a hectic Hollywood schedule, or being a new mother.
Part 2 includes comprehensive chapters to help other women understand what the thyroid does, recognize the possible signs of a thyroid problem, find and deal with the right doctors, have the appropriate tests, get properly diagnosed, and choose the most effective treatments.
Says co-author Mary Shomon, "Many doctors say that thyroid disease is easy to diagnose, and easy to treat. But as a patient advocate, I hear from thousands of thyroid patients every month, and I know that is frequently not the case. Many of us need far more than the standard tests and cookie-cutter treatments in order to feel well. That's why we've explained it all in the book, along with information we've learned the hard way -- about everything from prescription medications, to vitamins, to going gluten-free, to tips for thinning hair and low sex drive. We want every reader to walk away practical solutions that to help them feel and look great!"
Part 3 includes special chapters that focus on the weight challenges both Nolin and Shomon faced as they optimized their thyroid treatment, and includes dietary, nutritional, and exercise advice and ideas to help other thyroid patients successfully lose weight.
Beautiful Inside and Out also features a section on beauty tips and solutions specifically designed for thyroid patients - who often struggle with thinning hair and hair loss, puffiness around in the eyes, skin problems, and loss of their eyebrows.
The book also features a detailed "Resources" section, with contact information and links to web sites, books, practitioners, products, gluten-free diet support, and resources that can help readers.
Says Mary Shomon: "I am grateful to call a number of nationally-known thyroid and hormone experts not only colleagues but friends, and so I'm thrilled that Sara Gottfried, MD, Kent Holtorf, MD, David Borenstein, MD, and Richard Shames, MD all graciously shared a great deal of cutting-edge and life-changing information and advice for the book!"
Beautiful Inside and Out: Conquering Thyroid Disease with a Healthy, Happy, "Thyroid Sexy" Life, is being published by Atria on October 8, 2013.
Information about the book, including a sneak peek at the Foreword, the Table of Contents, video links, signings and appearances, and ordering information, is located at http://www.beautifulinsideandoutbook.com online.
The book is available for pre-order prior to the publication date at many retailers. Pre-order information is available at http://www.beautifulinsideandoutbook.com/PreOrder_Your_Copy at the site.
Gena Lee Nolin is a wife and mother in Scottsdale, Arizona. Mary Shomon is the nation's leading thyroid patient advocate, a New York Times best-selling author of 10 books on hormones and health, runs the popular About.com Thyroid Disease site - http://thyroid.about.com - and recently costarred in the hit PBS program "Healthy Hormones" with fitness expert Teresa Tapp. Mary is the mother of two, and lives in Kensington, MD.