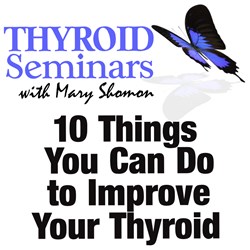 "Thyroid patients walk away armed with practical approaches they can start implementing right away to help feel and live their very best. One participant has said that she even calls it 'Thyroid School!'" - Mary Shomon
Kensington, MD (PRWEB) October 09, 2013
Nationally-known patient advocate Mary Shomon has been doing a workshop for several years at the New York Open Center - one of the top holistic learning centers in the country. The workshop is titled "10 Things You Can Do to Improve Your Thyroid." Thyroid patients across the U.S. and around the world have said they wish they could travel to New York for this seminar, or that the seminar could be scheduled in their cities.
Mary Shomon has now announced that an online teleseminar version of the six-hour workshop will be taking place over three Wednesdays — October 16, 23, and 30th — from 9-11 pm Eastern Daylight Time (6-8 pm Pacific.)
Special guests include:

Holtorf Medical Center and National Academy of Hypothyroidism founder and hormonal health expert Kent Holtorf, MD
NYC integrative physician David Borenstein, MD (who has been a special guest at many of Mary Shomon's in-person workshops in New York)
Bay area integrative physician, hormone expert and author of numerous thyroid books, Richard Shames, MD
Mind-body health expert and creator of the "Thyroid Meditation," Demo DiMartile
"Hypothyroid Mom" blogger and patient advocate Dana Trentini
Some of the many questions that will be answered during the workshop include:
What thyroid tests are needed, and how can patients understand and act on the results?
What is "optimal" thyroid treatment, and how can patients get it from their physicians?
What should thyroid patients avoid eating and drinking when taking thyroid medication?
What dietary changes could put a thyroid condition into remission?
How can people who are hypothyroid lose weight?
How can thyroid patients lower thyroid antibodies and reduce inflammation?
What is the role of the adrenals, and how does being "tired and wired" affect the thyroid?
Why is stress such a factor in thyroid conditions, and what can patients do about it?
What kinds of doctors can help, and how can patients find them?
How can thyroid patients cope with thyroid-related hair loss?
Says Shomon: "This workshop answers so many questions, and thyroid patients walk away armed with practical approaches they can start implementing right away to help feel and live their very best. One participant has said that she even calls it 'Thyroid School!'"
All that's needed is access to a phone, and the ability to call into a U.S. phone number, so patients outside the U.S. can participate. There will also be the ability to log-on via computer and view an online presentation, but a computer is not essential. Critical handouts and reference materials will be provided in an informational package in PDF format.
Participants who can't make the live calls or who want to listen again will be able to access recordings of the three sessions.
The workshop is filled with information, ideas, practical advice, and recommendations that will help thyroid patients get their thyroid treatment on track.
Workshop creator and leader Mary Shomon is a nationally-known thyroid patient advocate, New York Times bestselling author of 10 books on thyroid disease and hormonal health, including The Thyroid Diet Revolution, Living Well With Hypothyroidism, Living Well With Graves' Disease and Hyperthyroidism, the Menopause Thyroid Solution. She has been the Thyroid Expert for About.com http://www.thyroid.about.com - part of the IAC network of top Internet sites - since 1996, and has been featured in the PBS "Healthy Hormones" television special, as well as in hundreds of television, radio, newspaper and magazine interviews. Mary is also on the faculty at the New York Open Center.
About the Special Guests
Kent Holtorf, MD is an integrative expert in thyroid disease and hormonal health. Based in Los Angeles, he is founder of the national network of Holtorf Medical Centers, and founded the National Academy of Hypothyroidism. He has been featured in the national media, speaking extensively about thyroid health.
David Borenstein, MD is the founder of Manhattan Integrative Medicine, an integrative practice based in New York City, where he focuses on thyroid disease, hormonal health, pain management, and immune health. Dr. Borenstein regularly presents at Mary Shomon's thyroid seminars at the New York Open Center.
Richard Shames, MD is a Harvard Medical School trained integrative physician, and best-selling author of Thyroid. Dr. Shames, author of Thyroid Power, Thyroid Mind Power, and Fat, Fuzzy and Frazzled-- will also be giving away free half-hour coaching sessions to three seminar participants — chosen randomly. Each session is valued at $175!
Demo DiMartile is founder of One Light One Spirit, offering guided meditations and seminars intended to support and sustain mind-body health, wellness and inner peace. He is the creator of the "Thyroid Meditation" audio CD and MP3 guided meditation program. He will be sharing some thoughts on stress management through meditation and relaxation. Every participant will receive a free MP3 downloaded copy of the "Thyroid Meditation," valued at $15.
Dana Trentini is founder of the blog HypothyroidMom, and a thyroid advocate focused on thyroid disease and pregnancy, fertility, and motherhood. Dana will be sharing some useful tips and thyroid ideas with us during the teleseminar.
Signup Information
The regular workshop in New York City costs $140 - $150, plus an extra materials fee. The total cost for the online version is $99. That includes six hours of information, support, special guest presentations, Q&A sessions, the free Thyroid Meditation MP3, a chance to win free coaching sessions with Dr. Shames, and a detailed, in-depth seminar package and handouts.
Registration for the 10 Things You Can Do to Improve Your Thyroid online teleseminar is taking place at the "Anymeeting" registration page, at https://www.anymeeting.com/AccountManager/RegEv.aspx?PIID=E959DC85814B3C .