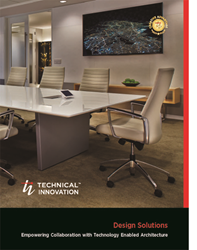 By carefully integrating the technology into the architect's space plan, we create meeting spaces that find the balance between form and function.
Atlanta, Georgia (PRWEB) May 13, 2015
Technology-infused work spaces are a constant challenge facing today's architects and interior designers. Technical Innovation (TI) partners with PRYSM, Crestron, Chief and Middle Atlantic to demonstrate solutions that incorporate current technology requirements without compromising the aesthetics of the design.
"Easy-to-use visual collaboration environments are central to today's workplaces and universities," says Tom Spearman, Technical Innovation Regional Director. "The ability to quickly and effectively communicate information to people in and outside of the meeting space enhances participation and enables better decision making. By carefully integrating the technology into the architect's space plan, we create meeting spaces that find the balance between form and function." TI works closely with the architectural team to achieve this delicate balance and meet all project needs.
Visit booth 3375 in the Technology Pavilion of ATLAIANTA 2015 for a hands-on demonstration of the latest interactive technologies including Prysm's Cascade Collaboration Video Wall. Attendees will learn how this interactive video display can not only enhance efficiencies within their own firm, but can be seamlessly incorporated into designs for added functionality. This video offers attendees a glimpse of the display's extraordinary capabilities.
For a completely wireless HD presentation from any mobile device and on any platform, Crestron's AirMedia will be demonstrated in the booth. With AirMedia, up to 32 people can connect at the same time in the same room. This bring-your-own-device (BYOD) collaborative presentation solution offers ease-of-use to applications ranging from a single huddle room to an enterprise level deployment.
In addition to these collaboration solutions, the booth will also feature equipment solutions designed to maintain a clean and sleek aesthetic. Middle Atlantic's Technology Pedestal is an innovative solution for localized equipment mounting in meeting spaces offering a clutter-free equipment rack that becomes a custom-finished table foundation. Low-profile mounts by Chief will be displayed demonstrating creative, efficient and attractive methods for mounting video panels of various sizes and configurations.
As a participant of Expo Chat, TI is delivering valuable educational opportunities to design partners. Through this valuable partnership program, they are able to offer attendees LU credit simply by touring the booth and learning about trending technology and design solutions.
Exclusive to their partners in the design community, TI offers their informative feature "Three Ways Architects Benefit from Aligning with Integrators." The article provides insights into successful project outcomes when technology is properly planned for, and incorporated into, a design from its inception. Project Development Specialists representing several Technical Innovation business groups including Presentation Technology Solutions, Critical Space Solutions, Broadcast Solutions Group, and Blue Hat Design, as well as representatives from Prysm, will be at the booth to demonstrate the technologies and discuss project applications with attendees. Design Specialists representing TI's Design Solutions Group will also be on-hand to discuss unique capabilities and deliverables offered that incorporate today's integrated collaborative technologies, as well as sustainable technologies such as occupancy sensors, lighting control systems, motorized shades, etc., into a room's or building's design.
For more about Technical Innovation Design Solutions. explore the capabilities and services shown in their brochure.
About Technical Innovation
Technical Innovation is a design/build systems integrator specializing in unified communication technologies, mission critical facilities, presentation and visualization environments and broadcast solutions. Serving corporations, state and federal government agencies, universities, professional organizations, and Houses of Worship, TI focuses on designing solutions specific to their client's needs and providing an exceptional customer experience. This includes best-of-class, video-centric collaboration solutions, design-build system integration, managed services and ongoing customer support. TI has earned the trust of their customers for delivering exceptional customer service, and their customers also rely on them for expert guidance, unique vision, and highly disciplined approach. Companies such as MetLife, United Airlines, Turner, and The Home Depot have counted on them for their system integration needs. Established in 1937, Technical Innovation has grown to over 350 employees and is ranked 5th on the SCN Top 50 list. TI has won numerous awards for their work, but it's the reward of exceeding their customers' expectations that continually inspires the company.
For more information about Technical Innovation, visit Technical-Innovation.com.