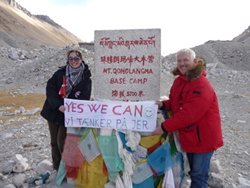 Is travelling to Everest Base camp expensive?
Lhasa, Tibet (PRWEB) July 09, 2015
Now that Everest base camp is once again accessible to travelers many have been inquiring about scheduling a Tibet trekking tour in the area during fall 2015. Over the four-day trek, travelers will traverse unforgettable high altitude Himalayan landscapes that most miss out on. Lhasa based Tibet Ctrip Travel Service-TCTS (http://www.tibetctrip.com) has been operating trekking tours for over 12 years and shares advice for helping travelers making the journey this fall.

For the remainder of 2015 Tibet travel agency TCTS recommends scheduling the tour for September or early October. The monsoon rains of July and August can obscure Everest and the surrounding scenery for days on end.
Be prepared for quickly changing climactic conditions. A sunny day can easily turn to rain or snow and temperatures often drop below freezing at night. Clothes that can be layered are the way to go. Also, well broken in hiking shoes, along with sunscreen and lip balm to protect from the harsh sun, are essential.
While the terrain itself isn't challenging, the altitude certainly can be. The Tibet trek begins at around 14,000 ft and tops out at over 18,000 ft at base camp. Trekkers don't need the strength and endurance of an athlete to make the trip, however taking time to exercise in the months leading up to the adventure can make a difference!
The Everest base camp trek can be a rewarding test of strength and endurance, often imparting upon travelers a new perspective on life and the world around them. TCTS provides equipment such as tents and sleeping bags along with support staff to take care of camp so travelers can focus on the experience and not the logistics. With the fall 2015 travel season right around the corner, now is the time to start planning!