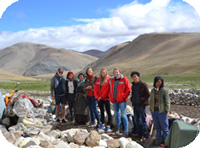 Only one day in Tibet, is this okay?
Lhasa, Tibet (PRWEB) April 18, 2015
For Tibet travel groups on the go Tibet Ctrip Travel Service-TCTS (http://www.tibetctrip.com) is now operating one-day private tours. TCTS is local Tibet travel agency in Lhasa. With itineraries focused on culture, scenery, or both it's possible for travelers to get in, enjoy an introduction to Tibet, and then move on to their next destination. While all private tour itineraries are fully customizable TCTS discusses some of the most popular options.

Potala Palace, Jokhang Temple, Barkhor Area: These places are must-sees for those visiting Tibet and are some of its most important cultural assets. The day begins at Potala where travelers will explore the former home of the Dalai Lama and Tibetan government. Next up is Jokhang Temple, home of the only image created of the Buddha, during his life, that is still in existence today. The tour concludes with exploration of Barkhor Bazaar.
Drak Yerpa Hermitage and Ani Tsankhun Nunnery: This option is great for those looking to get outside of Lhasa and do a bit of hiking while still learning about Tibetan culture. The tour begins with a short hike up a mountain to Drak Yerpa Hermitage Cave Monastery. After lunch the group will visit Ani Tsankhung Nunnery.
Lake Namtso Day Trip: This is one of TCTS's longer day tours, lasting a full 12 hours. The drive to Namtso is about 4 hours each way and gives travelers ample opportunity to enjoy Tibet's high altitude scenery with a few opportunities to stop and take pictures. After visiting the lake travel groups will have the option of soaking in Yangpachen Hot Spring.
With so many ways to immerse oneself in Tibetan culture and enjoy world famous scenery, the list of options for a one-day private tour of Tibet goes on and on. TCTS will help travelers obtain necessary travel permits and is happy to help arrange hotels and ground transportation to/from the airport or train station. With summer in Tibet coming up quickly now is the time to book a Tibet tour!
Learn more about Tibet travel agency through this link: http://www.tibetctrip.com!