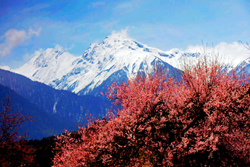 Tibet Travel Org will take you to enjoy the most beautiful spring at the roof of the world.
Tibet (PRWEB) March 14, 2014
The 12th Nyingchi Peach Blossom Festival, themed by "meet in Nyingchi, look for the most beautiful spring", will kick off on March 26 and last till the end of April. Nyingchi is the hottest destination in spring because of the annual peach blossom festival, according to Kunga, an experienced tour guide of Tibet Travel Org CITS. The festival has become one of the most important tour events in Tibet, attracting millions of tourists every year.
Lying in the lower reaches of Yarlung Tsangpo River, Nyingchi is known as the "Switzerland of Tibet" because of its semi-humid climate and fascinating scenery. With an average altitude of approximately 3,000 meters above sea level, it is the lowest prefecture of Tibet. It embraces spring earlier than the rest of the region. When most areas are still freezing cold in March, Nyingchi has already turned into a sea of peach blossoms. To attract more visitors, a peach blossom festival is celebrated annually since 2003.
The opening ceremony will be held in Gala Village where there is a valley full of wild peach trees. They are likely to be in full blossom between mid-March and late April. A Tibetan saying goes, "The beauty of spring hidden in southeast Tibet is embodied in clusters of peach blossoms." During the ceremony, traditional Tibetan performances will be given. A series of competitions will happen continuously, such as photography competition and traditional Tibetan sports.
The peach blossom site spans along Sichuan-Tibet Highway, Nyang River and the highway between Nyingchi Milin Airport and Bayi Township. Travelers will be amazed by the picturesque scenery of gorgeous peach blossoms with snow-capped mountains in the background. It is a romantic place for dating and wedding photography.
"In addition to the festival, tourists can also visit famous tourist attractions in Nyingchi, such as Lulang Forest, Basumtso Lake and Mt. Namche Barwa." Kunga said. "Besides, they can enjoy the local special cuisine and explore the distinctive folk customs."
"Many domestic tourists prefer to drive from Chengdu to Nyingchi along Sichuan-Tibet Highway known as the most scenic road in China." Kunga continued. "Several villages along the highway are selected as the best places to appreciate and shoot the peach blossoms, such as Peach Blossom Village and Peach Blossom Valley in Bome County."
"I highly advise travelers to fly to Nyingchi directly from Chengdu. It is only about 1.5 hours," said Kunga. "Of course, you can take a plane or train to Lhasa, then drive to Nyingchi. It takes about 8 hours to cover 420 kilometers between Lhasa and Nyingchi. There is also a flight to Nyingchi from Lhasa, about 40 minutes."
"We have received many bookings for tours 2014 since last November," said Mrs. Catherine Go, manager of Tibet Travel Org CITS. "The weather is getting warmer and warmer. The number of tourists begins to increase rapidly. So it is best to book train or air tickets and hotels in advance."
About Tibet Travel Org CITS
Tibet Travel Org CITS, the top online Tibet tour operator, annually sends more than 1,000 individual travelers and over 100 tour groups to Tibet. It helps travelers to obtain the Tibet Travel Permit, book air/train tickets to Tibet and customize their tours. The company also keeps updating latest information about Tibet on facebook.tibettravel.org and twitter.