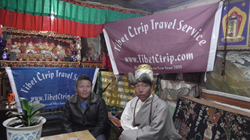 Explore the high plateau of Tibet with Tibet local Travel agency!
Lhasa, Tibet (PRWEB) March 26, 2015
While surreal landscapes and unique cultural experiences await those who visit Tibet there are a few things travelers should know to help plan a successful trip. The latest news on travel permits, when to visit, how to get there, and how to avoid altitude sickness are all things to keep in mind. To help ensure visitors are well prepared, Tibet Travel Agency Tibet Ctrip Travel Service-TCTS (http://www.tibetctrip.com) discusses what to expect for visiting in spring 2015.

Unlike previous years, groups of all sizes and nationalities can now enter Tibet on the same permit. Keep in mind that travelers coming from Nepal will need a Tibet group visa; this functions as a Chinese visa but is only valid for Tibet. TCTS will help take care of the application process.
Visiting in April 2015 is a fantastic time to see mountain flowers. This time and into mid-May also provides for an excellent time to do the trek to Everest base camp; temperatures are comfortable during the day and the sky is clear, giving trekkers a better chance at cloudless views of Everest.
Those looking to get the most of their travel time are best off flying into Lhasa. Flights are available from Kathmandu and cities throughout China. Travelers with extra time may want to consider the train or overland routes; these provide the best way to enjoy the most scenery. Come July-August mudslides make overland routes an unattractive option.
Upon arrival stay hydrated and get plenty of rest. This is the best way to avoid altitude sickness. While some may experience a mild headache and shortness of breath it rarely interferes with normal activities.
Spring is an excellent time to visit, the weather is pleasant and mountain views aren't obscured as often as other times of the year. Tibet tour operators like TCTS will take of necessary permits, help travelers decide on an itinerary, and provide advice on the best way to get in and out of Tibet. Exploring Tibet is a unique experience so be sure to plan well and arrive prepared for memories that last a lifetime!
Learn more about Tibet travel agency: http://www.tibetctrip.com/review-2015.html